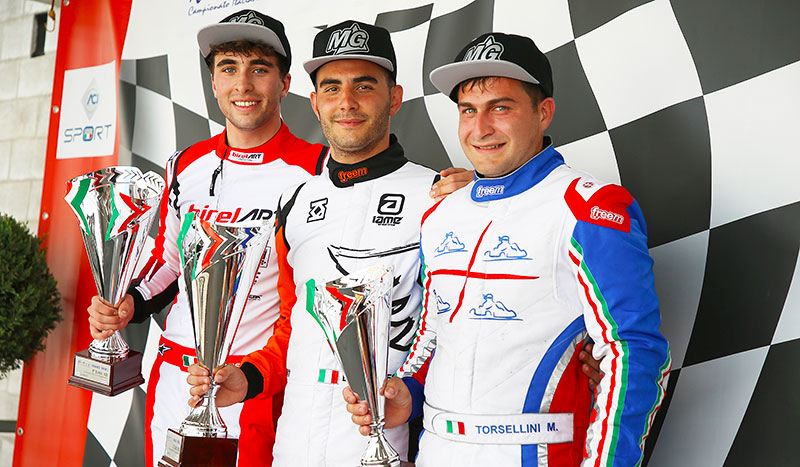 VITI RACING'S ENGINES ON TOP OF THE ITALIAN ACI KARTING CHAMPIONSHIP
The engines by Viti Racing got off to a strong start in the opening meeting of the Italian ACI Karting Championship held at the Franciacorta Karting Track of Castrezzato (Brescia) taking the podium in KZ2 and securing great results also in KZN Under and Senior.
A great performance in KZ2 came from Leonardo Marseglia, who installed himself in the second place of the classification just two points short of the lead thanks to the double podium in race-1 (P2 overall at the end of an 8 place comeback) and race-2 (P3 after another 4 place comeback due to the grid inversion).
Another driver assisted by Viti Racing got on the podium of KZ2:  Moritz Ebner was second overall in race-2 and monopolized the Under 18 classification winning both finals in this category. Ebner built a good lead on the top of the KZ2 Under 18 classification and is fourth in the overall classification.
In the other categories, Massimiliano Casagranda was among the quickest of KZN Under and secured a good podium (P2) in race-2, which earned him the second place of the classification. Great performances were also scored in KZN Senior, where Andrea Tonoli was the fastest of qualifying practice.
The next round of the ACI Karting Italian Championship will be at the Pista Salentina of Ugento (Lecce) on June 26th.
Complete results are available at https://www.acisport.it/it/CIK/home
26.05.2022
Viti Racing