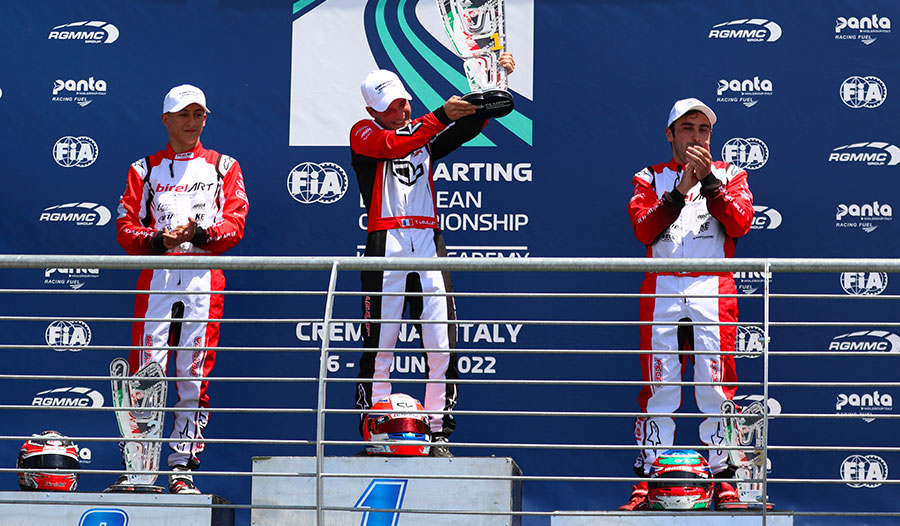 VITI RACING DOMINATES THE KZ2 EUROPEAN CHAMPIONSHIP IN CREMONA
Viti Racing's engines had a super-positive weekend in Cremona on the occasion of the second and decisive round of the FIA KZ2 European Karting Championship. The engines of thhe Italian preparator dominated fair and square since qualifying and heats. Eventually, the hard-fought finale was deservedly won by the French driver Tom Leuillet (Leclerc by Lennox/Birel ART-TM Racing-LeCont), who had already won the opener in Genk (Belgium).
The competitiveness of the Viti Racing's engines was underlined by the great one-two secured by Cristian Bertuca's excellent P2 with team Birel ART Racing, and by the fastest and second-fastest lap times posted in the final.
Viti Racing's engines have been successful in all the racing stages: in the heats, they secured 2 wins with the best classified, Moritz Ebner, 3 with Tom Leuillet, 3 with Cristian Bertuca and one with Giuseppe Palomba. This was virtually an hat-trick!
Next to the one-two of Tom Leuillet and Cristian Bertuca, the top ten was rounded off by the fifth place of Moritz Ebner, who lost the podium due to a bad start, and by the ninth place of Oscar Targett. Palomba was 21st instead, while Leonardo Marseglia 23rd due to a penalty.
The complete results can be found at the following website: https://www.fiakarting.com/event/2022-cremona/KZ2/results
Ph. Fotocar
21.06.2022
Viti Racing