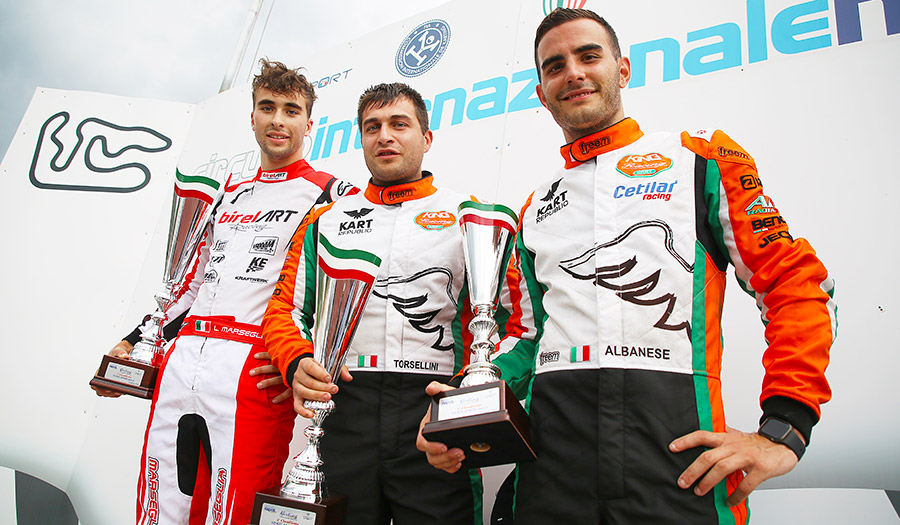 VITI RACING'S ENGINES ON THE PODIUM OF THE ITALIAN CHAMPIONSHIP IN SARNO
Viti Racing engines claimed great results also in the Italian Championship. In the fourth round of the KZ2 Championship, race held at the International Circuit Napoli of Sarno, Moritz Ebner and Leonardo Marseglia put in excellent performances in qualifying and races. Ebner secured a spectacular pole position (54.859s) in qualifying practice and Marseglia was among the quickest posting the fifth fastest time. Times in qualifying heats have been good too, Ebner was second overall in the first heat being just 0.002s off the best time and then was third in the second heat. Marseglia completed a good performance in the first heat but was unfortunately forced to the retirement from the second heat. Ebner's momentum was kept also in race-1, where he claimed P2 overall and victory in the Under-18 classification, while Marseglia was fourth at the flag but handed a 5s time penalty. Race-2 was started with inverted grid and Marseglia managed to climb up to P2 posting the third fastest time, while Ebner closed his effort in P7, but got again on the Under-18 podium in P3.
Moritz Ebner is leading the Italian Championship Under-18 and built a 29 point gap on the closest rival.
The final appointment of the Italian Championship will be in Val Vibrata on September 25.
Complete results can be found at the following website https://www.acisport.it/it/CIK/home
Viti Racing