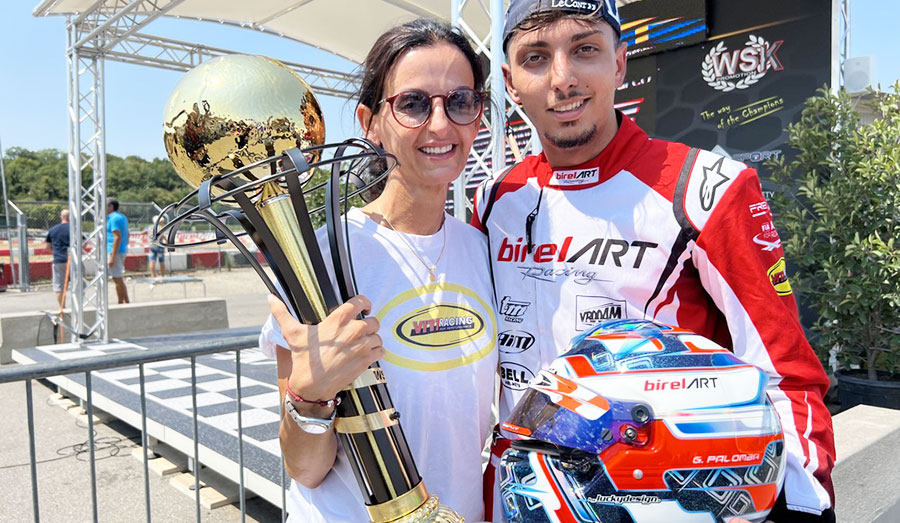 VITI RACING ON TOP OF THE WSK EURO SERIES IN LONATO AND DKM IN AMPFING
Viti Racing's engines had a great weekend and claimed a stunning win with Giuseppe Palomba in Lonato at the opener of the WSK Euro Series and a good podium for Valentino Fritsch at Ampfing in DKM.
Palomba's win on BirelART TM Racing by Viti at the South Garda Karting of Lonato has been stunning, especially considering that the Italian driver had to start from the back of the grid in the first of the three heats due to a penalty in qualifying (1s of delay in crossing the start line!). A furious recover started from there in the two remaining heats, which was later on converted in P2 in Prefinal and victory of the Final.
In Lonato, Cristian Bertuca put in a great performance taking P9 after a 10 place comeback. Ivan Ekelchik also ended his effort within the top ten in P10. Among the quickest drivers assisted by Viti Racing, the Australian Oscar Targett was 11th, the Dutch Robin Glerum 18th, the French Tom Leuillet 19th, the Dutch Nathan Schaap 21st and the Pole Karol Pasiewicz 27th.
In the DKM in Ampfing, the Austrian  Valentino Fritsch on BirelART Racing KSW and with Viti Racing engine, obtained an excellent second place in race-2, which was rounded off by the fastest lap of the race. This result confirmed him as one of the main contenders in the German Championship.
Complete results are available at http://www.wskarting.it  and https://www.kart-dm.de/en/results.
Credit photo: 1) Team BirelART, Ph. KSP Reportages; 2) Giuseppe Palomba, Ph. WSK Promotion; 3) Podium WSK Euro Series Lonato KZ2 with Giuseppe Palomba, Ph. Fotocar13; 4) Serena and Giuseppe, WSK Euro Series Lonato KZ2, Ph. FMPress; 5) Podium DSKM (KZ2) Ampfing with Valentino Fritsch, Ph. Nina Megger.
The next round of the Italian ACI Karting Championship KZ2 will take place in Castelletto di Branduzzo (Pavia) on July 24.
18.07.2022
Viti Racing