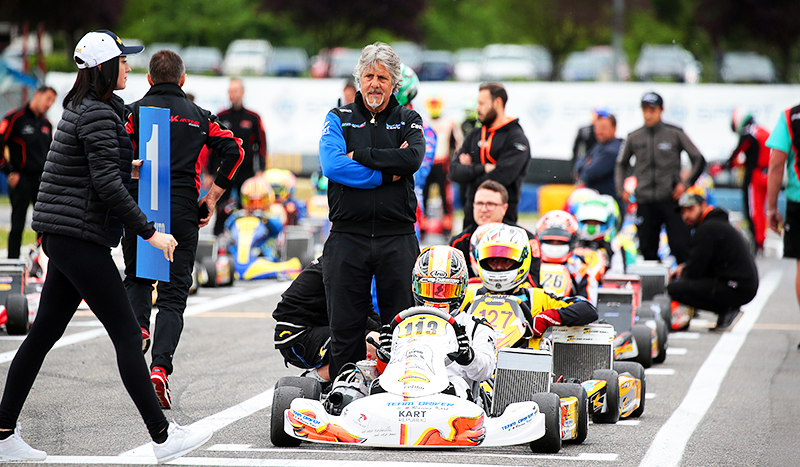 POSITIVE DEBUT FOR VITI RACING AT THE ITALIAN ACI KARTING CHAMPIONSHIP
Drivers assisted by Viti Racing have been among the main protagonists of the opening meeting of the Italian Championship in Castelletto di Branduzzo. Palomba unlucky and stopped by two incidents in qualifying heats.
The opener of the Italian ACI Karting Championship at the Circuit 7 Laghi of Castelletto di Branduzzo saw Giuseppe Palomba, Davide De Marco, Mauro Simoni, Francesco Comanducci and Tommaso Benni among the main protagonists of KZ2 on TM engines prepared by Viti Racing.
Overall the Italian Championship at the Circuit 7 Laghi Kart has been quite positive for all the drivers assisted by Viti Racing even if just the podium was missing to complete the great technical work done during the weekend due also to some bad luck that affected especially Giuseppe Palomba's qualifying heats, as he was involved in two incidents.
Tommaso Benni (BirelArt-Tm) came to the fore in Series-1 qualifying when he posted the second time of his series and was followed by Giuseppe Palomba (Croc-Tm) in fourth, Davide De Marco (KR-Tm) in fifth and Francesco Comanducci (CRG-Tm) in seventh, all within 0.02s, while Mauro Simoni (Evokart-Tm) was 13th in Series-2.
After the double retirement in the heats, Palomba showed his best in the second chance race, winning it easily despite starting from the back and earned the access to the Final. Nearly all drivers assisted by Viti Racing ended in top places. Simoni run a good race and completed a good comeback race up to P6, leading De Marco, while Comanducci ended in the top-ten. A good comeback race was also put in by Palomba, who managed to recover 18 places and crossed the finish line in 11th. Benni ended his effort a bit more behind in P15.
De Marco came to the fore early in Race-2 taking a positive P5 leading Palomba, as the latter managed to recover 5 additional positions from his starting place. The other drivers were hit by some bad luck: Comanducci and Simoni were handed a 5s time penalty and had to settle for P17 and P18, while Benni had to retire 5 laps early.
The next round of the Italian ACI Karting Championship will take place at the circuit of Siena on June 9th.
Complete results are available at www.acisport.it/it/CIK/home