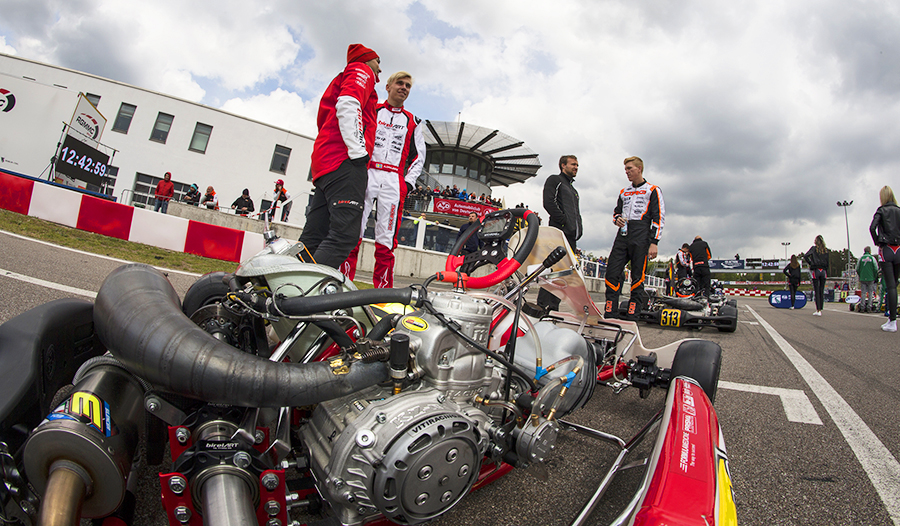 GREAT RACE FOR VITI RACING'S ASSISTED DRIVERS PALOMBA AND DAHLBERG AT THE EUROPEAN CHAMPIONSHIP IN WACKERSDORF
After the best time in Series-3 qualifying of KZ2, Palomba has been among the protagonists of the heats too and claimed eighth in the Final. Dahlberg completed his Final in 11th places. Positive performances were put in by Comanducci and Van Der Schaft too.
Another excellent performance was put in by drivers assisted by Viti Racing in the opener of the KZ2 European Championship in Wackersdorf (Germany). Giovanni Palomba (Croc-Tm) has been very fast since qualifying as Alexander Dahlberg (BirelArt-Tm). Both drivers have been among the main protagonists of the whole weekend in Wackersdorf. Francesco Comanducci and Justin Van Der Schaft, both on CKR-Tm, have also put in positive performances despite some bad luck affected their qualifying stages and prevented them from qualifying for the Final.
Giuseppe Palomba claimed a very good result and was competitive despite the difficult conditions due to the bad weather especially on Saturday in Wackersdorf. Palomba was the quickest in Series-3 qualifying posting the third fastest time overall, and then kept his momentum in the heats taking two wins and three placings that allowed him to start the Final from P3. Some problems with the tyres unfortunately did not allow Palomba to keep the pace of the front runners in the Final though and he had to settle for P8, which showed an overall excellent competitiveness anyway. The performance put in by the Swede Alexander Dahlberg has also been very good, as he managed to bounce back from the 14th place in qualifying up to P8 after the heats thanks to one win and 4 placings. Dahlberg fought en-par with the best in the Final putting in very good lap times and ended his effort in P11.
Palomba is currently third in the European Championship at 16 points, Dahlberg is tenth at 8. Next round in Sarno on June 16th.
Complete results are available at www.cikfia.com