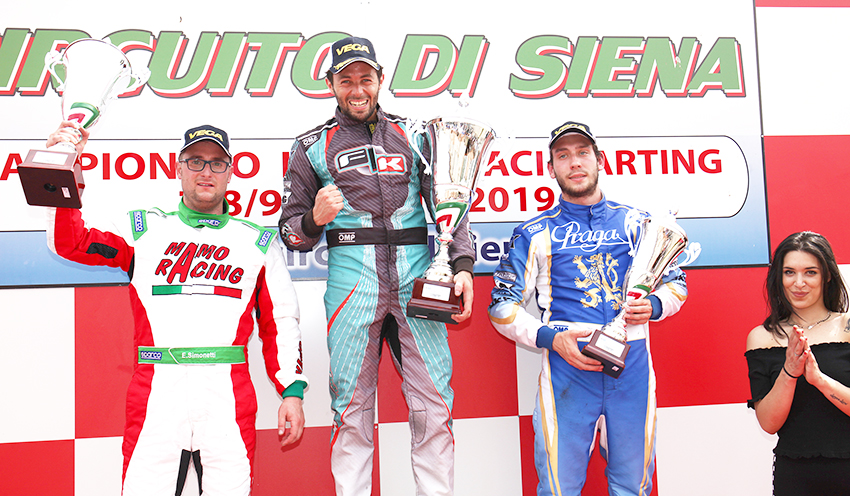 VITI RACING THREE TIMES ON THE PODIUM IN SIENA AT THE ITALIAN ACI KARTING CHAMPIONSHIP
Baldi put in great performances in Siena coming third in KZ2, D'Attanasio won KZN Under's race-2 and Nalon was second in KZN Over's race-1. Palomba completed a good comeback race in KZ2 ending fourth.
The balance of the second appointment with the Italian ACI Karting Championship, race held at the Circuit of Siena, has been positive for Viti Racing. The drivers assisted by the Italian preparator managed to haul important points for the championship.A splendid Alessio Baldi (Intrepid-Tm) got on the podium of KZ2 taking P3 in race-1. He has been among the quickest on the Tuscan circuit since qualifying practice and heats. Baldi claimed a good P8 in race-2 (started with inverted grid) keeping a great race-pace. Baldi is currently ninth in the championship.Giuseppe Palomba (Croc-Tm) has also been among the quickest. He went fastest in his qualifying group in 39.439s (which was the second fastest lap overall) and then won the first heat, but unfortunately had to retire from the second heat, which forced the driver from Naples to start the first final from the back. The tenth place in race-1 and fourth in race-2 make Palomba positive for the remainder of the Italian Championship, where he currently stands sixth in the classification.Mauro Simoni (Evokart-Tm), Francesco Comanducci (CKR-Tm), Davide De Marco (KR-Tm) and Rocco Tancredi (BirelArt-Tm) qualified for the finals in KZ2 and came to the fore in several occasions over the weekend.The opener of KZN Under had 65 drivers at the start and Filippo D'Attanasio (Formula K-Tm) managet to win race-2 after being seventh in race-1, while his teammate Valerio Spada did not go through the second chance race. D'Attanasio is currently fifth in the KZN Under classification.Riccardo Nalon (Parolin-Tm) got on the second step of the podium of KZN Over in race-1 after shining in qualifying with P3 and being on top after the heats. Nalon came seventh in race-2 and is currently third in the championship's classification. Paolo Beltramini (Energy-Tm) was 17th in race-2 at the end of a comeback race started from the back of the grid, while Gionata De Mezza (Croc-Tm) unfortunately had to retire from both finals.
Complete results are available at www.acisport.it/it/CIK/home
The next appointment on track for Viti Racing is the KZ2 European Championship in Sarno on June 16th.