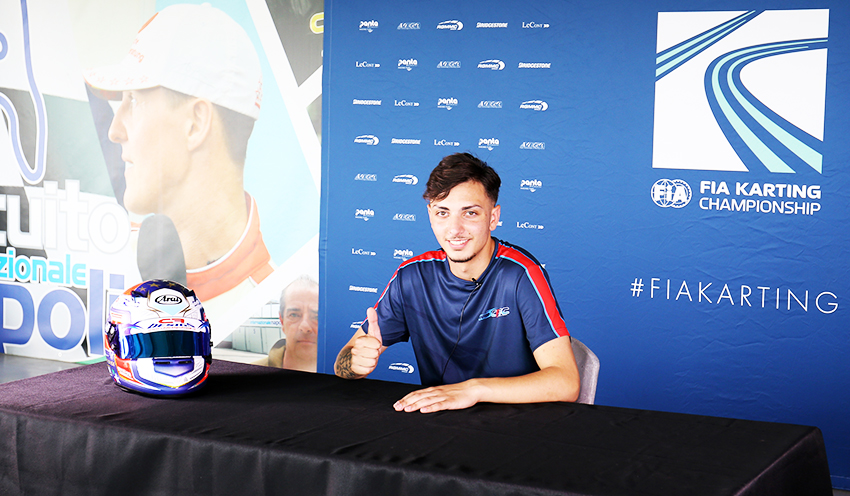 VITI RACING AND PALOMBA GREAT PROTAGONISTS OF THE KZ2 EUROPEAN CHAMPIONSHIP
Palomba claimed the pole position in Sarno being two tenths clear of the nearest rival. He then won 4 of the 5 heats but a contact in the final relegated him to the fifth place. Tancredi, Dahlberg and Van Der Schaft also put in a strong weekend.  
Viti Racing has been fighting among the protagonists since the closing stages of the weekend of Sarno during the KZ2 European Championship with Giuseppe Palomba (Croc-Tm), but the strong Italian driver found himself in the unlucky situation of having a contact with some rivals. Palomba came out with a broken axle and this compromised the competitiveness he displayed throughout the weekend. He secured the pole position (being two tenths clear of the second out of 64 drivers) and four wins in the five heats run. Victories would have been 5 if it were not for a penalty due to the dropped front fairing in the first heat. Palomba ended fifth but his overall performance has been excellent and without that contact early on he could have ended a lot higher up.
Viti Racing's weekend has been positive also with the other drivers assisted by the Tuscan perparator, like Rocco Tancredi (BirelArt-Tm) who managed to end within the finalists a good qualifying and a positive performance. Alexander Dahlberg (BirelArt-Tm) missed the qualification to the final by just two penalties, as Justin Van Der Schaft (CKR-Tm), who had a bigger gap to the top. The performance of these two drivers in the second and closing round of the European Championship was positive nevertheless.
Complete results are available in the website www.cikfia.com
The next round on track for Viti Racing will be the third and penultimate round of WSK Euro Series in the weekend of June 23rd in Lonato del Garda.