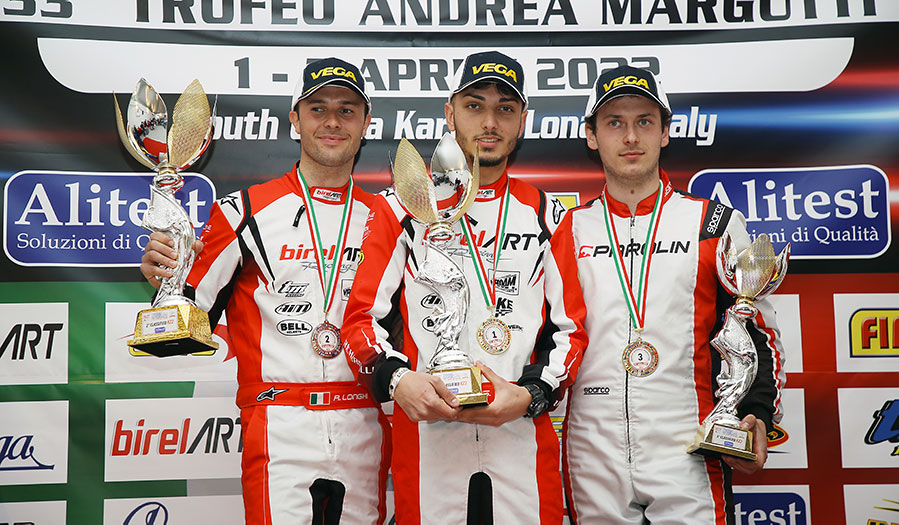 AN AMAZING ONE-TWO IN KZ2 FOR VITI RACING'S ENGINES AT THE 33RD ANDREA MARGUTTI TROPHY 
Viti Racing's engines claimed a full haul in the 33rd Andrea Margutti Trophy in KZ2 at the South Garda Karting Circuit of Lonato. The two top-drivers Giuseppe Palomba and Riccardo Longhi locked out the top two on BirelART-TM Racing. The first and second place in the Final confirm the exceptional competitiveness of the engines prepared by Viti Racing in an event that had 69 drivers at the start in the shifter category.
In Lonato it has been a crescendo of performance and the final stages were all in the mark of Viti Racing that triumphed on the dry of the Prefinal with Longhi leading Palomba, and on the wet of the Final when Palomba was chased all the way to the flag by Longhi. Leonardo Marseglia, the other driver using Viti Racing's engines in the Final, put in a solid performance too and recovered 12 places in the Final after being penalized in the Prefinal.
The other drivers using Viti Racing's engines also put in solid runs and managed to get through to the second chance races: Kirill Smal was at the debut in KZ2 on Ricciardo Kart chassis and the other drivers were Axel Bengtsson, Kacper Nadolski, Johannesen Skov and Mattia Simonini.
Complete results can be found at www.trofeomargutti.com
5.04.2022
Viti Racing