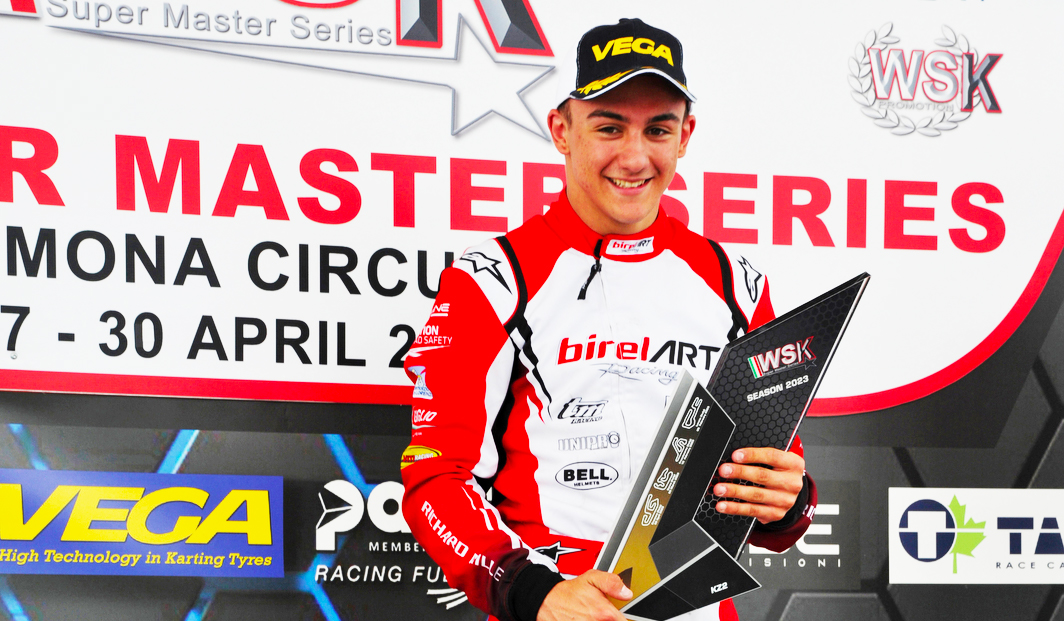 WHAT A VICTORY! VITI RACING'S ENGINES AND BERTUCA ARE THE CHAMPIONS IN THE WSK SUPER MASTER SERIES 2023
A fantastic victory of the KZ2 title was claimed at the Cremona Circuit in the last round of the WSK Super Master Series, after the first three events in Lonato, Franciacorta and Sarno. It was also a hard-fought weekend, and therefore even more exciting for Viti Racing engines with Cristian Bertuca, representing the BirelART Racing team on BirelART-TM Racing, who were crowned champions of the 2023 edition after a spectacular final where the young Italian driver fought hard to secure third place and the WSK Super Master Series title. After an unfortunate Prefinal, Bertuca did not lose heart and drove very well in a challenging Final where finishing at least in fourth place was necessary. Cristian Bertuca with Birel ART and Viti Racing engines did more, he tenaciously secured the podium behind Matteo Viganò and Emilien Denner and mathematically secured the 2023 title.
At Cremona, the performances of the other drivers using Viti Racing engines were also positive, albeit with mixed fortunes: Maxim Rehm (Leclerc by Lennox Racing) finished sixth in the final after a six-position comeback, Freddie Slater (Birel ART Racing) secured pole position in qualifying and finished ninth in the Final with a nine-position comeback, finishing sixth in the championship. The performances of Gabriel Kawer and Daniel Vasile were also positive, although both were affected by a series of very unfortunate moments on this occasion.
The classification of the WSK Super Master Series.
The podium of the Final in Cremona:
Matteo Viganò (ITA)
Emilien Denner (FRA)
Cristian Bertuca (ITA)
WSK Super Master Series 2023 Championship Standings:
Cristian Bertuca points 309
Emilien Denner points 278
Matteo Viganò points 234
Complete results are available at https://www.wskarting.it/index.asp
Ph. Race Frame Ennio Brigatti