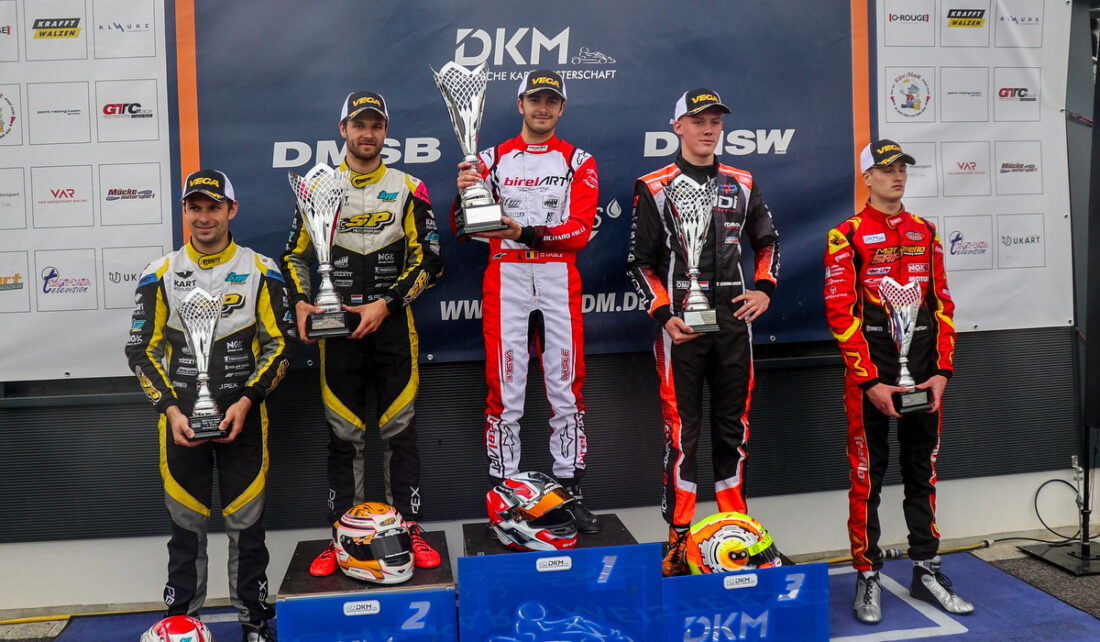 VITI RACING'S ENGINES SUCCESSFUL IN THE OPENER OF DKM IN MUELSEN
Viti Racing's engines won immediately in race-1 and secured a podium finish in race-2 at the opening round of the DKM at Muelsen Circuit with Daniel Vasile, after a highly competitive weekend in KZ2 against a strong group of opponents. Daniel Vasile, who also performed well with Viti Racing in the recent FIA Karting European Championship and WSK, achieved a double podium at Muelsen with Birel ART Racing KSW on a Birel ART-TM, making him the first leader of the German series that inaugurated the DKM 2023 season.
"I am very happy for myself and the team for this victory" Daniel Vasile said after his win. "It was a great race and it is nice to win for the opening round of the DKM."
Viti Racing's engines also performed well in this first round with Robert Kindervater, who finished fourth in race-2, as well as with the other competitive drivers David Liwinski and Maxim Rehm, and Thomas Neumann, who unfortunately had bad luck. In the qualifying round at Muelsen, Daniel Vasile and Maxim Rehm immediately stood out with the fourth and fifth fastest times and a heat win for Rehm, who finished third overall in the heats ahead of Vasile. In race-1, Vasile took the victory in the first final, with Kindervater in tenth, Liwinski in 14th and Rehm in 15th due to a penalty. In race-2, Vasile climbed the podium again with a third-place finish, Kindervater was fourth and Rehm finished 17th due to another penalty. In the championship, three Viti Racing drivers are in the top ten: Daniel is in the lead with 50 points, Kindervater is seventh, and Rehm is tenth.
The next rounds of the DKM are scheduled in Genk (May 28), Wackersdorf (August 27), Kerpen (September 24) and Franciacorta (October 29).
Complete results are available at https://www.kart-dm.de/en/
Viti Racing
Ph. DKM Press