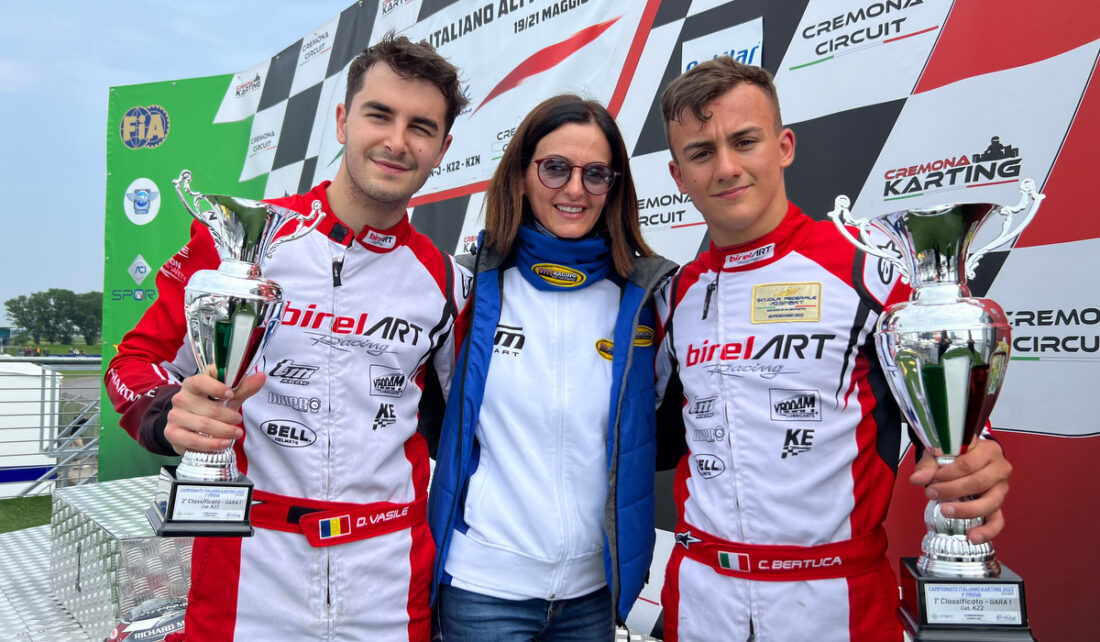 VITI RACING ENGINES ARE ALSO ON TOP OF THE ITALIAN CHAMPIONSHIP KZ2 WITH CRISTIAN BERTUCA AND DANIEL VASILE
The success of Viti Racing engines in KZ2 continues in the Italian ACI Karting Championship at the Cremona Circuit, where there has been an overwhelming one-two finish by Cristian Bertuca and Daniel Vasile in race 1 and another podium finish for Bertuca in race 2 on the occasion of the first round of the season.
During the weekend in Cremona, Bertuca, who was competing with the LG Motorsport team on BirelART-TM, after securing pole position in qualifying and winning both heats, dominated in race 1 and secured a third-place finish in race 2 with a comeback of five positions due to the reversed grid. Bertuca also claimed a double victory in the Under 18 category.
Daniel Vasile, who has been competing with the KCS Racing team also on BirelART-TM, after an excellent second-place finish in race 1, missed out on fifth place in race 2 due to a 5s time penalty for the misplaced front spoiler following a contact.
The lap times posted by Viti Racing's drivers were also impressive, with Bertuca and Vasile consistently fast and among the best overall.
Simone Martinelli and Alessio Scabini, also competing in KZ2, had mixed fortunes, as well as Fabrizio Del Brutto in the KZN Under category, who did not have a good weekend. Del Brutto was in fact forced to retire in both finals despite setting an excellent third time in the qualifying heats. Aniello Di Biase also participated in the KZN Over category with the LG Motorsport team.
Complete results are available at the following website:
https://youcrono.com/Pagina/5278/Risultati2023CIKRnd1
Ph. Race Frame Ennio Brigatti
Ph. Print H24
Viti Racing