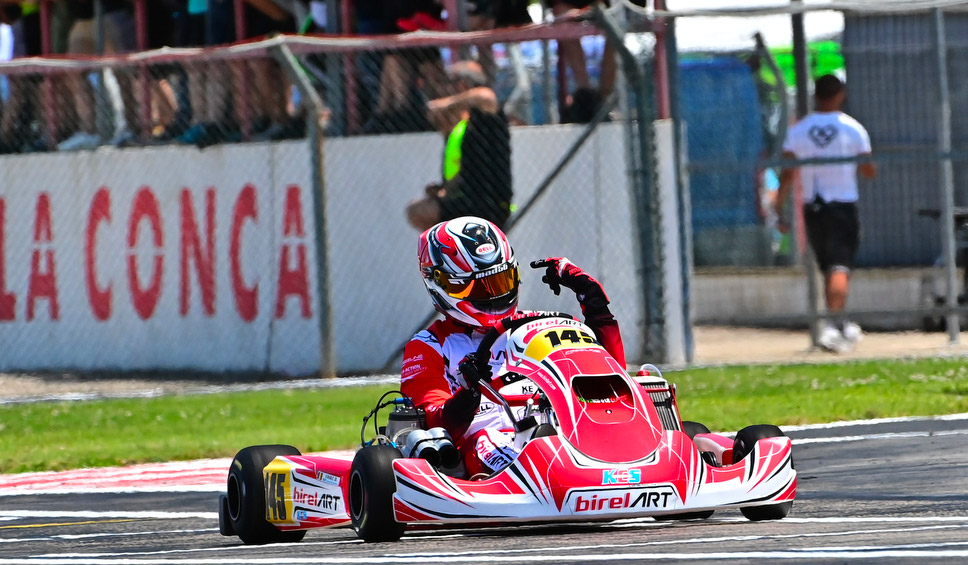 VITI RACING'S ENGINES LEAD THE ITALIAN CHAMPIONSHIP WITH THE WINNER IN LA CONCA DANIEL VASILE
After the success in the opening round of the Italian ACI Karting Championship in Cremona, Viti Racing engines secured another impressive victory in the second event at the International Circuit La Conca in Muro Leccese. This time it was Daniel Vasile with the KCS team on a BirelART-TM Kart who excelled in the first final, displaying an aggressive race and deservedly claiming the top step of the podium. He also set the fastest lap time of the event with a remarkable 45.369s, establishing a new record.
At La Conca, the winner of Cremona, Cristian Bertuca, had to settle for fourth place in race 1 but still topped the Under 18 classification. In race 2, with the top 8 positions reversed on the grid, Vasile once again showcased his speed, setting the fastest lap, and managed to secure a third-place finish, a result that propelled him to the top of the championship standings. This pushed Bertuca, who finished fifth in the second final, into second place overall.
Alessio Scabini also participated at La Conca representing the Under 18 category with  Viti Racing engines among the fields of MG Racing team on a Maranello-TM Kart. However, after a strong performance in the first final, Scabini was forced to retire in race 2. Angelo Lombardo, making his comeback in the Italian Championship with the South Racing Kart team on a BirelART-TM Racing, secured two placements. The other Under 18 competitor from Viti Racing, Gabriel Kawer with the KCS team on a BirelART-TM Kart, also achieved two solid finishes.
In the Italian Championship, Viti Racing engines now occupy the top two positions, with Daniel Vasile leading the way with 101 points, followed by Cristian Bertuca in second place with 96 points.
The next event for Viti Racing and its drivers is scheduled for June 25th in Sarno for the final round of the WSK Open Series, serving as a preview for the European Championship KZ-KZ2, which will take place on July 9th, once again at the International Circuit Napoli.
Complete results are available at the following website:
https://youcrono.com/Pagina/5285/Risultati2023CIKRnd2
Ph. Print H24
Viti Racing