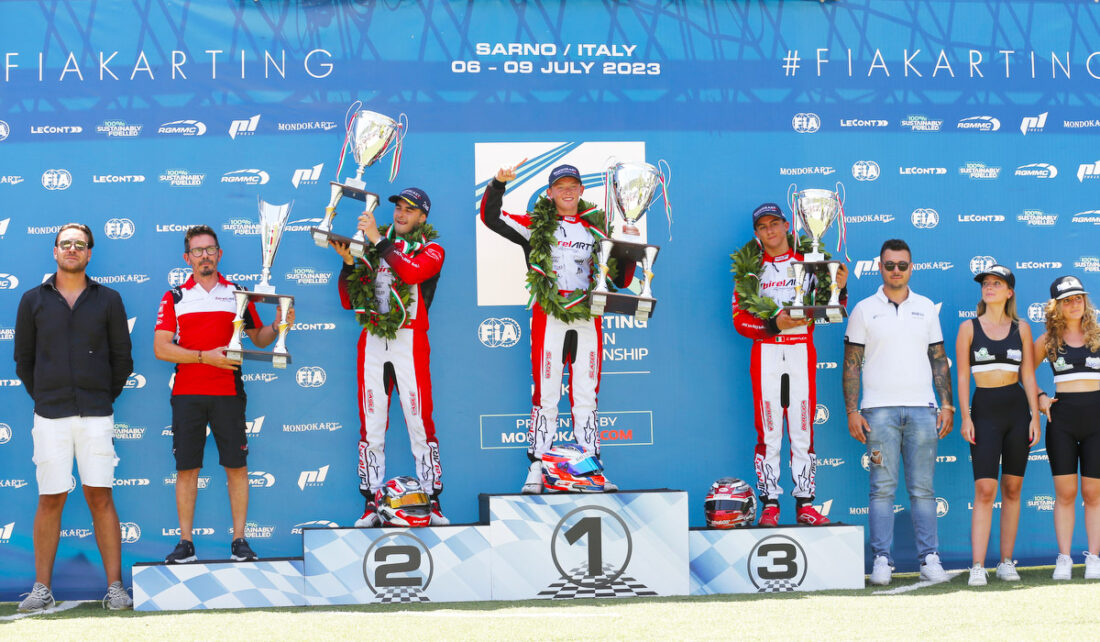 VITI RACING'S ENGINES WIN THE EUROPEAN FIA KARTING KZ2 2023 CHAMPIONSHIP WITH FREDDIE SLATER ON BIREL ART-TM KART
VITI RACING'S ENGINES WIN THE EUROPEAN FIA KARTING KZ2 2023 CHAMPIONSHIP WITH FREDDIE SLATER ON BIREL ART-TM KART
Viti Racing engines claimed the victory with three drivers on the podium and, for the second consecutive time, also the title in the second and decisive round of the FIA Karting European Championship at the International Circuit Napoli in Sarno in KZ2 category with the young British driver Freddie Slater and the Birel ART team on TM Kart.
It was a remarkable sweep on the podium for Viti Racing and Birel ART, with the newly crowned 2023 champion Slater and the other two incredibly fast young drivers, the Romanian Daniel Vasile and Italian Cristian Bertuca. A true "clean sweep" in the Sarno final, highlighted by the standings of the 2023 European KZ2 Championship, with 3 Viti Racing drivers in the top 4 positions: first place for Freddie Slater with 150 points, second for Daniel Vasile with 105 and fourth for Cristian Bertuca with 84!
The winning result in Sarno for Viti Racing engines was never in question, starting from the qualifying sessions with Freddie Slater's pole position, and the intermediate standings before the final with 5 drivers in the top ten: P1 Slater, P3 Bertuca, P5 Rehm, P7 Vasile, P9 Severiukhin. In the final, it was a masterpiece: P1 Slater, P2 Vasile, P3 Bertuca, with the fastest lap by Severiukin, who finished sixth but was later penalized and dropped down to 11th.
The other drivers who performed well with Viti Racing engines in the Sarno final were Angelo Lombardo, Gabin Leuillet, and Maxim Rehm. The event also saw the participation of Alessio La Martina, Ricardo Avila Manrique, Gabriel Kawer, Muktak Joshi, and Quentin Voria in the KZ category, as well as Jose Antonio Gomez, Albin Karlsson, Matheus Morgatto, and Jesper Sjoberg.
Final Standings
# 1. Freddie Slater (GBR) Birel ART
# 2. Daniel Vasile (ROU) Birel ART
# 3. Cristian Bertuca (ITA) Birel ART
European KZ2 Final Classification
# 1. Freddie Slater (GBR) points 150
# 2. Daniel Vasile (ROU) points 105
Tomass Stolcermanis (LVA) points 87
# 4. Cristian Bertuca (ITA) points 84