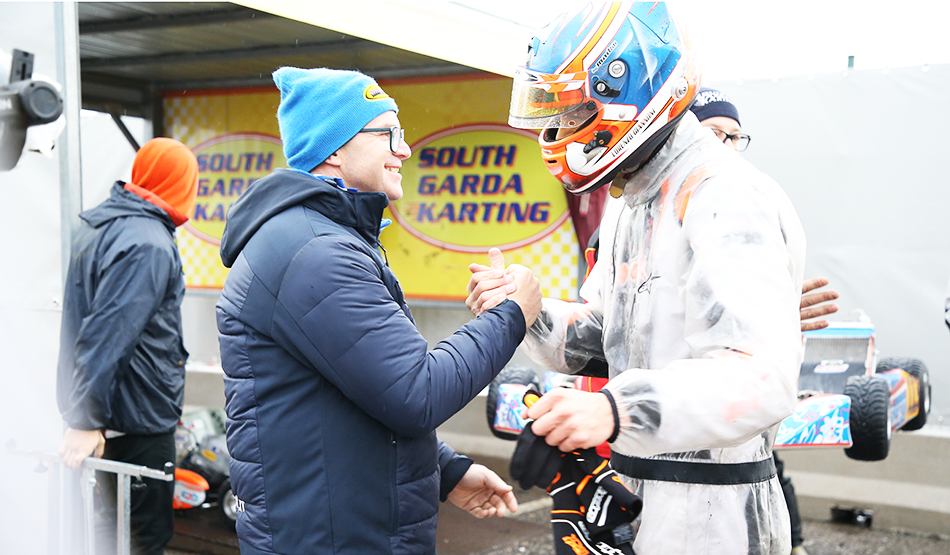 VITI RACING WINS A SPECTACULAR  48TH TROFEO DELLE INDUSTRIE WITH LORENZO GIANNONI
Lorenzo Giannoni dominated the 48th edition of the Trofeo delle Industrie with the technical assistance by Viti Racing. Good results were also obtained by Villagomez, De Marco, Funda and La Martina.
The 48th Trofeo delle Industrie, the race organized by Parma Karting and held last November 3rd in Lonato, confirmed once again the quality of the work done by Viti Racing in terms of preparing the TM Racing engines for its drivers. Lorenzo Giannoni managed in fact to clinch a spectacular victory in KZ2 on Sodikart. He had the upper hand displaying a crushing domination not only in qualifying practice and in the heats, but also in the soaking wet Prefinal and Final. This full haul secured thanks to a combination of the great technical package available and his driving skills in the wet, also earned Giannoni the victory of the Memorial Carlo Fabi.
Alongside Giannoni, who dominated this traditional race that counted a record participation of 247 drivers, Viti Racing obtained good results also with the Mexican driver Raphael Villagomez, who ended a difficult Final in 19th place on BireArt-Tm, while Davide De Marco was 20th on KR-Tm recovring 6 places, the Austrian Marcus Funda was 24th on GP-Tm, Alessio Vincenzo La Martina 25th on Maranello-Tm after brilliantly getting past the second chance race.
Complete results are available at www.trofeodelleindustrie.it and www.southgardakarting.it