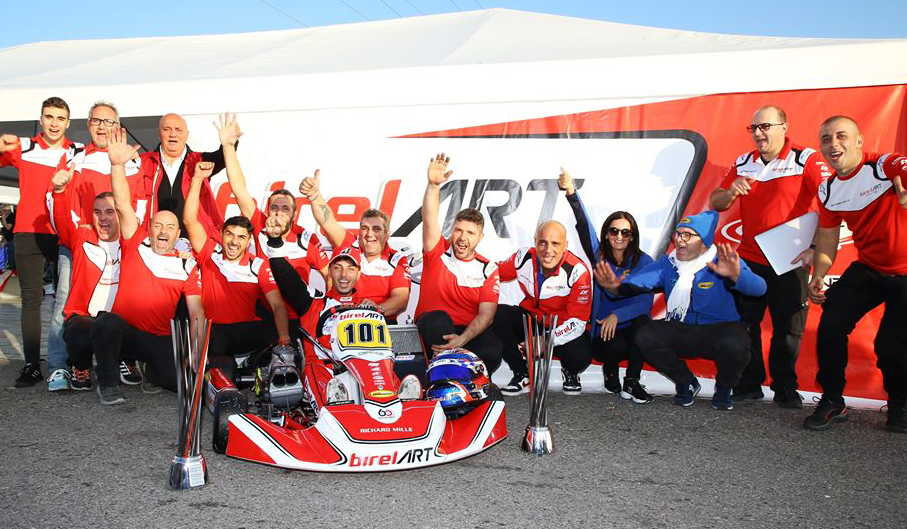 PALOMBA AND VITI RACING ARE THE WSK OPEN CUP KZ2 CHAMPS IN LONATO
Giuseppe Palomba triumphed, with the assistance of Viti Racing, at the prestigious KZ2 WSK Open Cup in Lonato del Garda on BirelArt-TM.
Giuseppe Palomba claimed a fair and square victory in KZ2 at the WSK Open Cup held at the South Garda Karting in Lonato. He has been competing on BirelArt-TM Racing-Bridgestone with the engine assistance by Viti Racing. Palomba dominated the final of this International event and the WSK Open Cup Championship thanks to the points scored winning the heats, Prefinal and Final.
Giuseppe Palomba had a splendid crescendo of results. He was second in qualifying behind his strongest rival, 2018 Italian Champion Giacomo Pollini, and then he has been pushing throughout winning the three qualifying heats, Prefinal and Final.
Palomba got on the top step of the podium in the Final, as Pollini was second and the Dutch Senna Van Walstijn third. Regarding the podium of WSK Open Cup, Palomba was again on the top step with 90 points, Pollini was second at 59 points and Alessio Lorandi third at 32.
The other drivers assisted by Viti Racing at WSK Open Cup were Lorenzo Giannoni (Sodikart-TM), who ended in the top ten and completed a great comeback ending ninth, while the German Walter Andre (BirelArt-TM) was 14th, Alessio Vincenzo La Martina (Maranello-TM) 18th and Andrea Rosso (BirelArt-TM), at his debut in KZ2, ended 19th.
Complete results are available at wskarting.it
The next appointment on track is at the Trofeo delle Industrie on November 3rd.