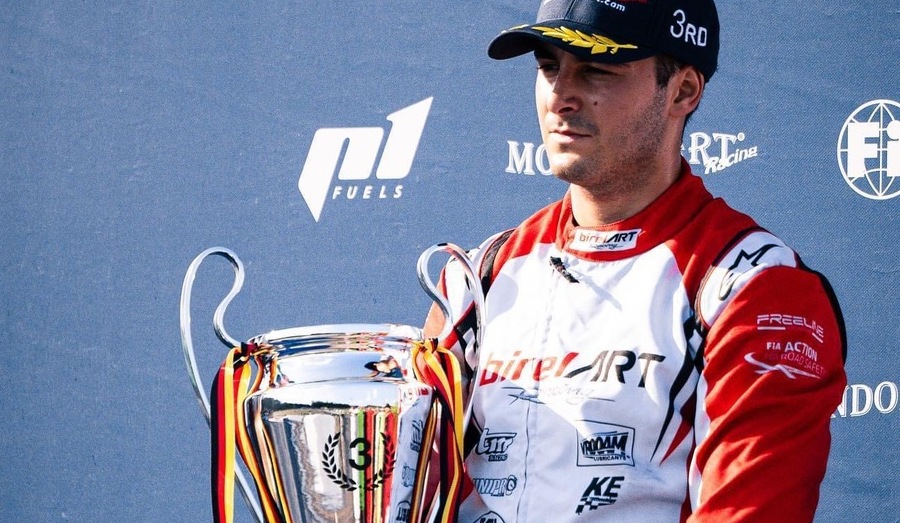 VITI RACING ENGINES CLAIM A GOOD PODIUM WITH DANIEL VASILE AT THE WORLD CUP KZ2 IN WACKERSDORF
It was an intensely fought and decidedly bittersweet weekend at the World Championship in Wackersdorf for the drivers competing with Viti Racing engines, but in the end, a fantastic podium was achieved and earned in the KZ2 World Cup with Daniel Vasile, an excellent performer throughout the weekend, consistently performing at a very high level and improving steadily. Starting from the 12th absolute time in qualifying and the second time in the group among the approximately 120 participants, Vasile secured the sixth place after the heats with two victories and finally the splendid third place in the final race. A significant podium that further confirms the speed qualities of Daniel Vasile and, of course, the performance of Viti Racing engines, which, along with the BirelART Racing team on the BirelART-TM Racing chassis, enabled him to achieve this prestigious milestone.
Among the drivers racing with Viti Racing, the performances of other finalists were also excellent: Matheus Morgatto, 11th in the final with the Leclerc by Lennox Racing team, Valentino Fritsch 14th with BirelART Racing KSW, followed in 15th position by Gabin Leuillet with Leclerc by Lennox Racing.
Cristian Bertuca's ambitions were immediately dashed due to an incident in the first lap, forcing him to abandon the race and unable to conclude the event in the best way, which was significant for the Italian driver's season. Maxim Rehm and Robert Kindervater were also forced to retire from the final race. Artem Severiukhin missed out on qualifying for the final by a narrow margin. Those who did not advance from the heats included Robin Glerum, Alex Maragliano, Jesper Sjoberg, Sebastien Belhocine, Jose Gomez Gutierrez, Patricio Zermeno and Gabriel Kawer.
In the KZ2-Masters category, Adriano Amaral raced with Viti Racing and narrowly missed making it to the final. Sven Hayer, Jordon Musser, Daniel Claudino, Ricardo Avila Manrique and Carlos De Souza showed good performances but were unable to advance past the heats.
Esteban Rangel competed in the KZ category but, unfortunately, did not progress beyond the elimination heats.
Complete results are available at:
https://www.fiakarting.com/event/2023-wackersdorf/guide