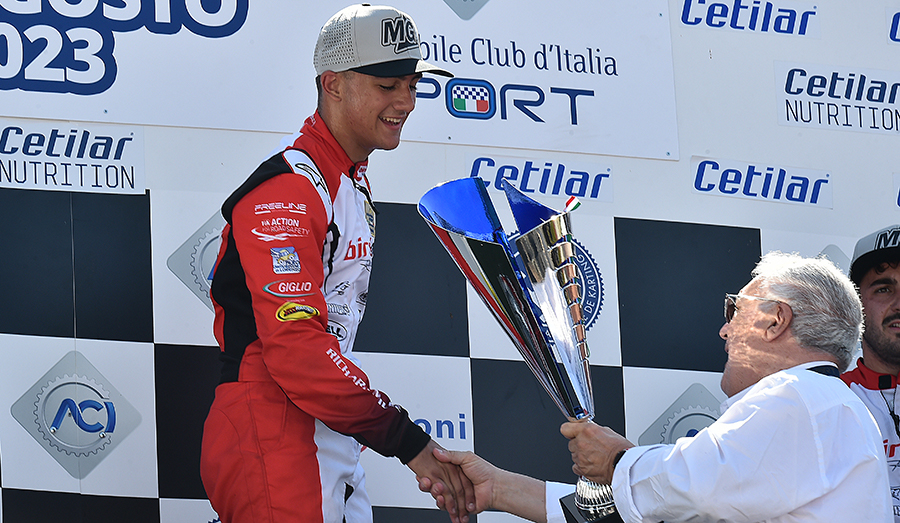 VITI RACING ALWAYS MORE PROTAGONIST IN THE ITALIAN ACI KARTING CHAMPIONSHIP
The fourth round of the Italian ACI Karting Championship at the International Circuit Napoli in Sarno on August 27th was too important for Cristian Bertuca to achieve his goal of leaving his mark on the 2023 KZ2 Italian title. And in the penultimate event of the season in Sarno, the result was pursued, sought, desired, and above all achieved by the determined Bertuca, racing with Viti Racing engines under the LG Motorsport team with a BirelART-TM Kart.
Among the fastest since the practice sessions, he secured and hard-fought victory in race 1, which also involved taking some risks, and made it to the podium in race 2 with a productive third place. These results have propelled Cristian Bertuca towards the Italian title. One last piece remains to seal the celebrations, the event on September 24th at Franciacorta, but the accumulated advantage of 96 points can only lead to justified optimism, also for the title in KZ2 Under 18.
In the Italian race at Sarno, Alessio Scabini also competed with Viti Racing engines and LG Motorsport colors, but a series of setbacks in the final phase did not favor him, despite achieving an excellent and promising fourth place in qualifying and performing well in the heats.
In a few days, another very important event awaits Viti Racing and its drivers, including Cristian Bertuca, for the KZ2 World Championship in Wackersdorf on September 10th. But that is another story yet to be told.
Complete results: http://www.acisport.it/it/CIK/home
Ph. Race Frame Ennio Brigatti, Ph. Print H24, Ph. Mas
Viti Racing