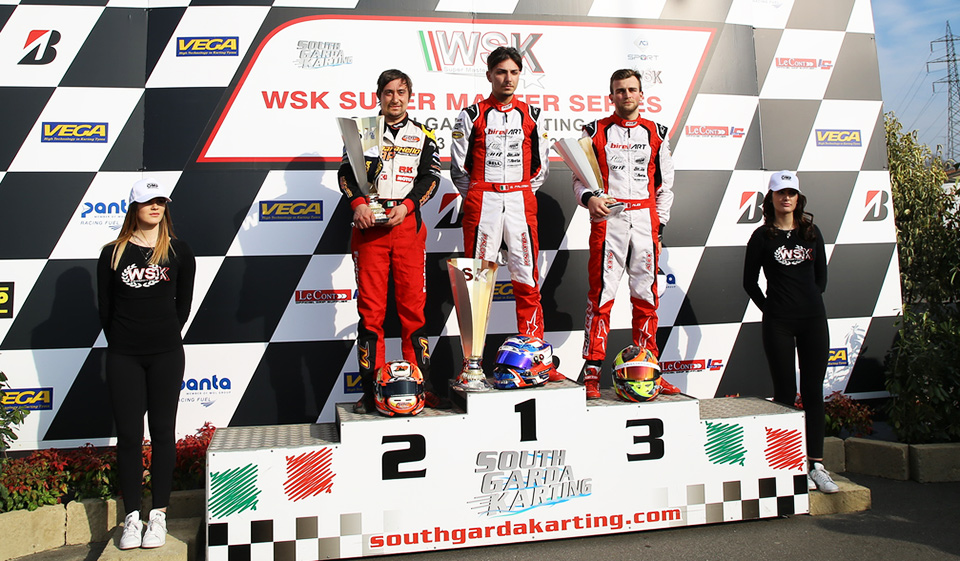 ANOTHER SUCCESSFUL WEEKEND FOR GIUSEPPE PALOMBA AND VITI RACING AT THE WSK SUPER MASTER SERIES
Giuseppe Palomba dominated also the WSK Super Master Series on Birel Art-Tm with the assistance of Viti Racing. Mattew Payne, Lorenzo Giannoni, Marcus Funda and Senna Van Walstijn among the finalists.
Giuseppe Palomba, with the assistance of Viti Racing regarding the engine preparation, claimed the second victory in a row in 2020 at an important international karting event: the WSK Super Master Series. After the victory in the season's opening Winter Cup at the South Garda Karting in Lonato, this time around the victory came just one week later in Lonato at the second round of WSK Super Master Series when Giuseppe Palomba had the upper hand on a strong set of rivals on BirelArt-TM Racing. The strong Italian driver, thanks also to the great assistance of Viti Racing, confirmed to be among the protagonists of the shifter category at the international level. He claimed three consecutive wins, starting from WSK Open Cup at the end of 2019, to the two successful races of 2020: the Winter Cup and WSK Super Master Series.
Among the other drivers assisted by Viti Racing, the Australian  Mattew Payne, also on BirelArt-TM Racing, put in a great comeback in the final after an excursion in Prefinal following a contact with a rival, while Lorenzo Giannoni has been very quick throughout the weekend on Sodikart-TM Racing, but did not finish the final due to an incident.
The other finalists assisted by Viti Racing also run very good races: namely, these were the Austrian Marcus Funda on GP and the Dutch Senna Van Walstijn on Sodikart.
Other drivers like Davide De Marco on KR, Moritz Ebner on Energy and Alessio Vincenzo La Martina on Maranello could not qualify for the final mostly due to the bad luck.
Complete results are available at www.wsk.it
24.02.2020
Viti Racing