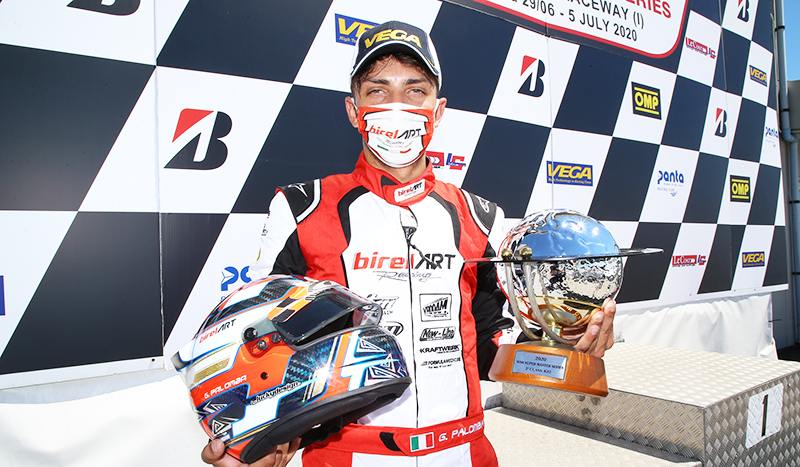 GIUSEPPE PALOMBA AND VITI RACING SECOND AT THE WSK SUPER MASTER SERIES
Giuseppe Palomba on Birel Art-Tm confirmed to be among the strongest protagonists at the double event of Adria in KZ2. Good performances have been scored by the other drivers assisted by Viti Racing: Senna Van Walstijn, Theo Vaucher and Lorenzo Giannoni.
A challenging, but positive outing for Viti Racing at the Adria Karting Raceway for the third and fourth rounds of WSK Super Master Series. The first International event after the Covid-19 emergency has seen Giuseppe Palomba on his BirelArt-TM Racing kart in the fight for the KZ2 title until the end after his winning performance at the South Garda Karting in Lonato. In Adria, Palomba kept his lead until round four when some setup problems prevented him from fighting for the win. Palomba secured nevertheless a fourth place that earned him the second place of the championship, which confirms him among the strongest interpreters of KZ2.
The other drivers assisted by Viti Racing also put in great performances. Senna Van Walstijn run a great qualifying on Sodikart-TM and came second in the Prefinal. Unfortunately, a  contact soon after the start forced the Dutch driver to retire early from the race. The Swiss Theo Vaucher on Intrepid-TM put in a good crescendo of results and managed to qualify for the final in his first high-level experience. After several good performances, Lorenzo Giannoni on Sodikart-TM was stopped by an incident in one heat, which caused him an issue to one rib that did not allow him to continue the weekend in Adria.
Complete results are available at www.wsk.it
The next round on track for Viti Racing will be the opener of WSK Euro Series in Sarno at the International Circuit Napoli on July 8-12th.
06.07.2020
Viti Racing