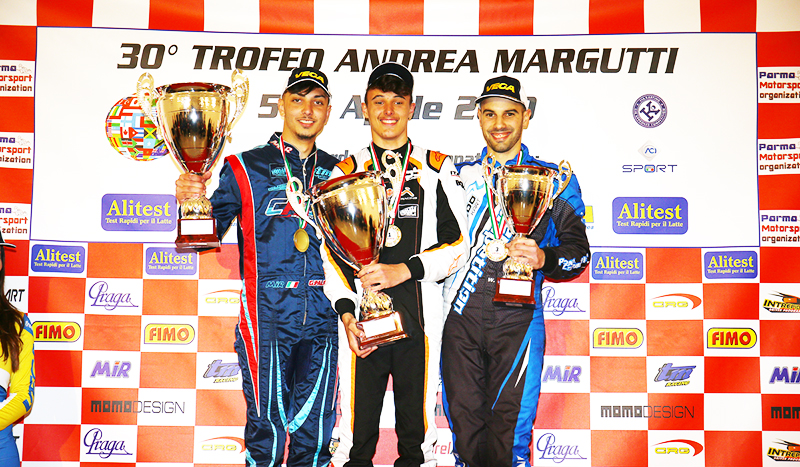 WHAT A FINALE AT THE 30TH ANDREA MARGUTTI TROPHY FOR VITI RACING AND PALOMBA !
Giuseppe Palomba has been among the the quickest and secured a great P2 at the 30th Andrea Margutti Trophy. Simoni relegated to the 18th place by a penalty.
What a finale! The 30th Andrea Margutti Trophy had an exciting finale: Giuseppa Palomba on Croc-Tm supported by Viti Racing came in fact second posting the second fastest time overall. The 30th edition of this event has put on a great show in Lonato with 67 drivers in KZ2 out of the total 237 coming from 40 different countries to compete this International FIA Karting race featuring several top-drivers.
Giuseppe Palomba has been constantly very fast, always among the protagonists starting from the fourth time in his qualifying session, the third after heats and in Prefinal, before displaying a great shape in the Final where Palomba closed his effort right in the slipstream of the winner Emilien Denner. This great performance allowed him to clinch the second step of the podium in this prestigious race. Among the other drivers assisted by Viti Racing, Mauro Simoni had a good weekend on Evokart-TM, but after a promising 14th place at the end of the heats he had to settle for P18 due to a 5s time penalty for the misplaced front fairing.
Things did not go that well for the other Viti Racing's driver, the Dutch Justin Van Der Shaft (CKR-Tm), who had to go through the second chance race and could not end within the top 6 to qualify for final stages.
Complete results are available at www.southgarakarting.it