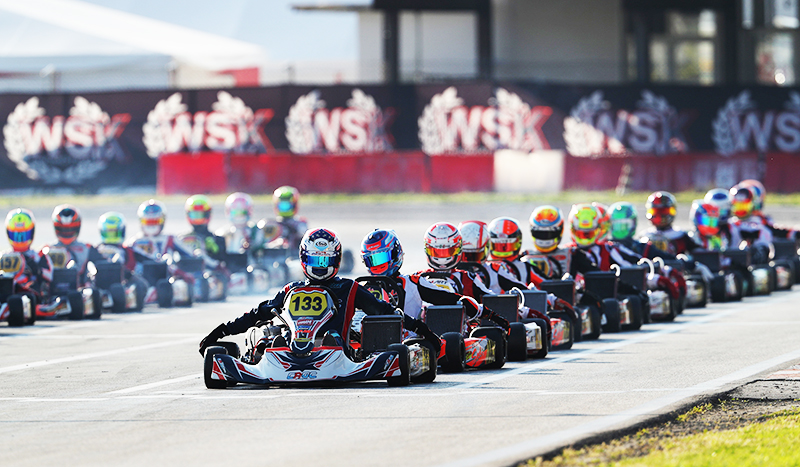 GOOD PERFORMANCE FOR PALOMBA AND DAHBERG WITH VITI RACING AT WSK SUPER MASTER SERIES IN SARNO
Palomba ended 10th after a very good Prefinal, while Dahlberg came to the fore putting in a crescendo of results until an incident forced him to the retirement.
Giuseppe Palomba put in a great performance and Alexander Dahlberg also displayed a great competitiveness level in the closing round of WSK Super Master Series in Sarno with the technical assistance of Viti Racing. The two drivers of the Italian preparator have been among the main protagonists of the race exploiting at best the competitiveness of their TM engines. Palomba and Dahlberg run a good race even though the latter was hit by tough luck in the final stages. Palomba has been superb since qualifying practice on Croc Promotion and put in the second quickest time of the Series and the third overall, before keeping a good pace in qualifying heats too. Prefinal highlighted the speed of Palomba as he led most of the race before closing his effort in P4. Palomba suffered a slight performance drop in the closing stages, but he kept the pace of the front runners anyway ending the weekend in P10. Dahlberg unfortunately had to retire his BirelArt from the Final due to an incident in the closing stages when he was getting some ground back with an excellent speed. The Swede had a good weekend despite the troubled start in qualifying practice, but then recovered well in the heats and Prefinal.
Complete results are available at www.wskarting.it
The next appointment on track is the opener of WSK Euro Series next March 31st in Sarno.