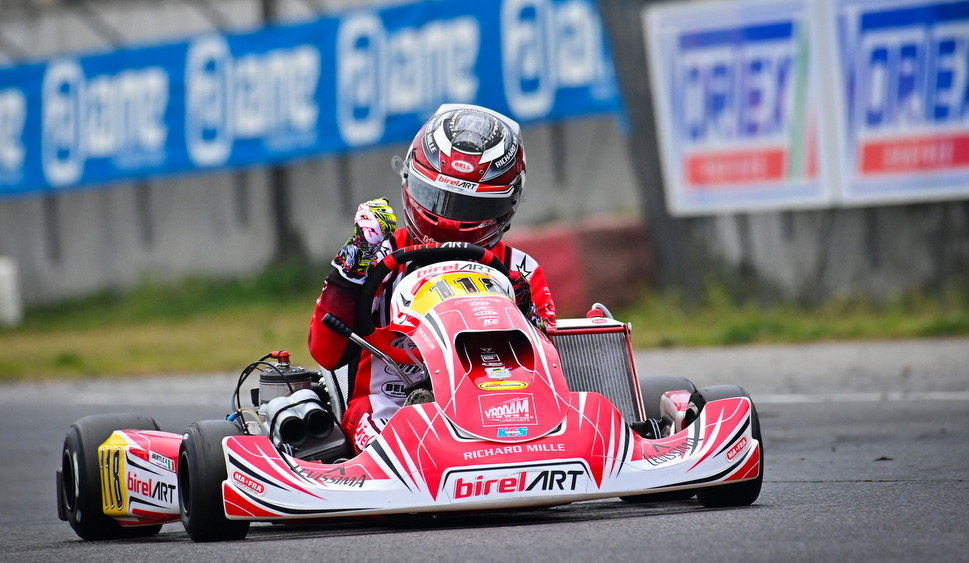 VITI RACING'S ENGINES ARE STILL IN THE HALL OF FAME OF THE MARGUTTI TROPHY: "CLEAN SWEEP" BY BERTUCA AND VASILE!
Another triumph has been scored by Viti Racing engines in KZ2 at the Andrea Margutti Trophy, for the second consecutive year. The 34th edition of the event in Lonato saw another young talent, Cristian Bertuca, racing with the KCS team on BirelART-TM Racing coming to the fore. This year the victory was even more complete, with the second step of the podium also occupied by another talented driver equipped with Viti Racing engines, namely Daniel Vasile. In short, a nice "clean sweep" secured by the Bertuca-Vasile pairing!
Now Cristian Bertuca pulled away and his umpteenth victory this season is clear proof of how the young driver has rightfully established himself among the great protagonists of international KZ2. Along with Bertuca, Daniel Vasile is also growing well. Both drivers were excellent performers in the 34th Andrea Margutti Trophy and always among the fastest: Bertuca holds the event's lap record, set in practice Session-1 in 45.653s, while Vasile recorded the best time in practice in Session-2 and the second overall in 45.985s. The performances were then excellent throughout the weekend, culminating in the 1-2 victory in the Final.
Robert Kindervater with BirelArt Racing KSW also had a positive performance, finishing 10th after a comeback of 11 positions, as did Maxim Rehm with the Leclerc by Lennox Racing Team, who finished 13th after a great comeback of 13 positions. Thomas Neumann also participated, but narrowly missed qualifying for the final.
Complete results can be found at http://www.trofeomargutti.com/
Ph. Brigatti and PrintH24
Viti Racing