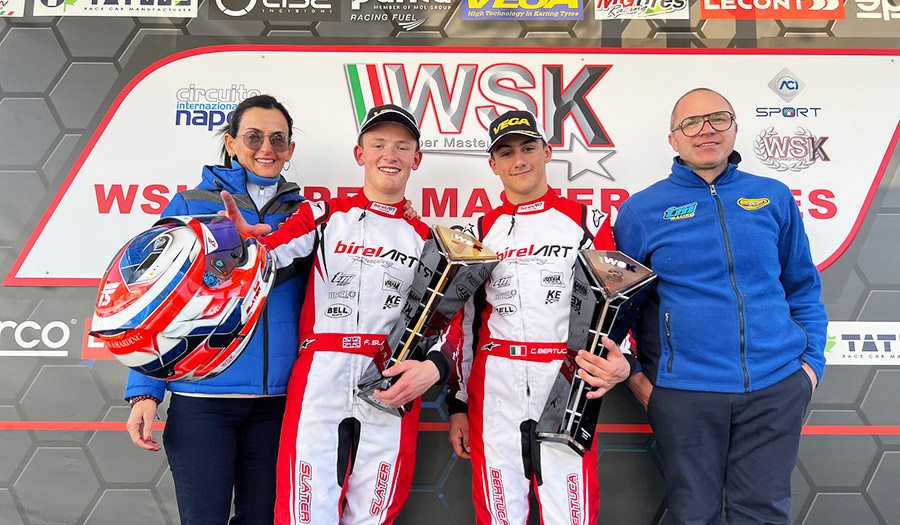 DOUBLE PODIUM AND DOUBLE LEAD FOR VITI RACING'S ENGINES AT THE WSK SUPER MASTER SERIES IN SARNO
Viti Racing's engines put in another strong performance in the penultimate round of the WSK Super Master Series at the International Circuit Napoli in Sarno, taking by a double podium in the KZ2 final and a double championship lead with Cristian Bertuca and Freddie Slater. Slater took the top step of the podium in Sarno, becoming more and more competitive in his debut year in the shifter category, while an excellent Bertuca took third place, increasingly leading the championship, both on BirelART-TM and now occupying the top two positions in the standings. Bertuca totalled in fact 241 points and Slater jumped to second place at 148 points.
The two drivers assisted by Viti Racing proved to be among the most competitive throughout the weekend in Sarno, with Bertuca and Slater posting the second and third best absolute times, respectively, separated by just 0.001s, together with the other promising driver Maxim Rehm, who finished sixth overall with the Leclerc by Lennox Racing team. Bertuca won three of the four heats posting several fastest laps, while Slater won two. Both drivers fought for the final victory, but Freddie Slater prevailed in the final stages and Cristian Bertuca finished in a strong third. Daniel Vasile, who missed the top ten due to a penalty, Ivan Ekelchik, Maxim Rehm and Moritz Ebner also qualified for the Final in Sarno, but were unlucky in the final result. Ferdinando D'Auria and Gabriel Kawer did not make it through the qualifications.
The fourth and final round of the WSK Super Master Series will take place in Cremona on April 30th.
The WSK Super Master Series standings after three rounds follows:
Cristian Bertuca points 241
Freddie Slater points 148
Emilien Denner points 146
Tom Leuillet points 144
Giuseppe Palomba points 136
Complete results are available at https://www.wskarting.it
Ph. PrintH24
Viti Racing