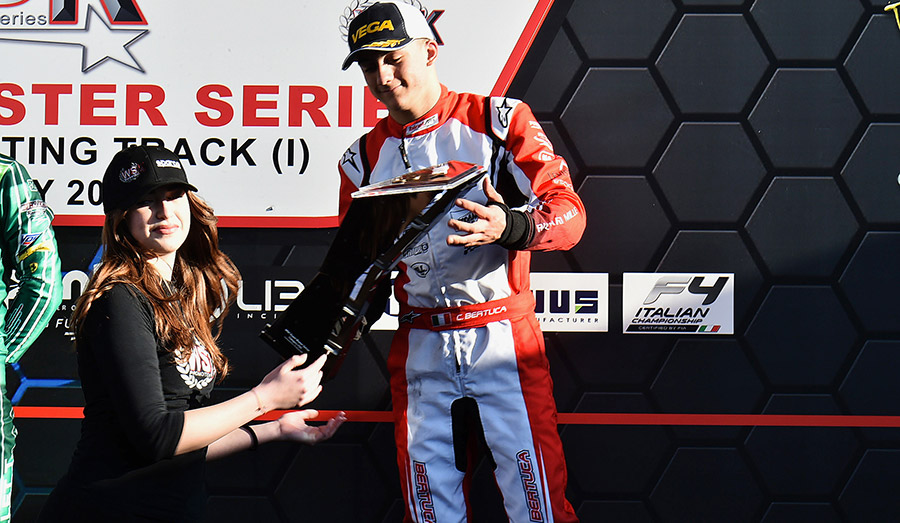 VITI RACING'S ENGINES AGAIN ON THE PODIUM OF THE WSK SUPER MASTER SERIES WITH CRISTIAN BERTUCA
Viti Racing engines pulled off another great result in KZ2 in Franciacorta at the second round of the WSK Super Master Series. Cristian Bertuca claimed an excellent second place finish in a particularly exciting final that confirms his position at the top of the leaderboard that includes the greats of international karting. This is a great sign for the young Italian driver, racing with BirelArt-TM and the technical assistance of Viti Racing, after his success in the last round in Lonato. Bertuca left his mark as an absolute protagonist of this championship, one of the most beautiful and hard-fought in recent years.
The performance of Viti Racing engines was good not only with Bertuca, who also secured the front row of the Final of the Franciacorta's weekend, but also with Freddie Slater, who was among the fastest overall and finished fifth. Daniel Vasile, returned to the top ten of the Final thanks to many fast laps after a good comeback.
A bit of bad luck slowed down Moritz Ebner instead. He qualified for the Final in Franciacorta showing a good performance nevertheless, as did the other drivers competing with Viti Racing engines: Robin Glerum, Ferdinando D'Auria and Gabriel Kawer.
The standings of the WSK Super Master Series after two rounds follow:
Cristian Bertuca points 159
Tom Leuillet points 119
Emilien Denner points 77
Giuseppe Palomba points 60
Alex Maragliano points 60
Complete results are available at https://www.wskarting.it
Ph. Race Frame Ennio Brigatti
Viti Racing