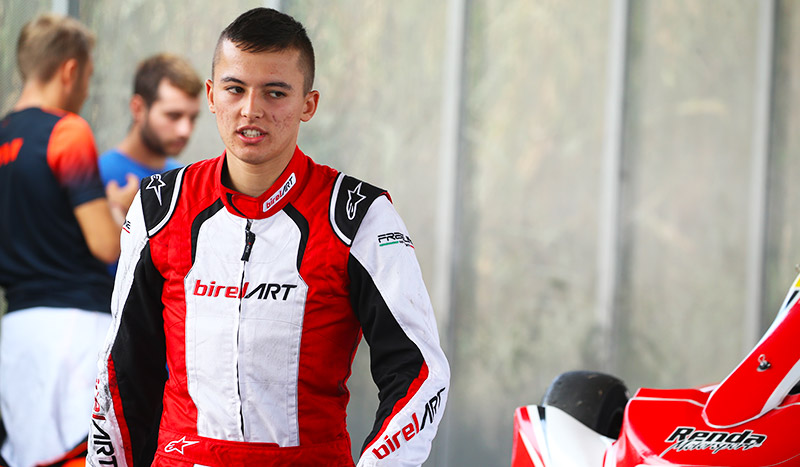 VITI RACING PUTS IN GREAT PERFORMANCES IN LONATO AT THE WSK OPEN CUP
The drivers employing Viti Racing's engines have been among the most competitive ones in the opening meeting of the WSK Open Cup that took place in Lonato.
The engines prepared by Viti Racing have been performing very well in the opening round of the WSK Open Cup held in Lonato as they have always been among the quickest in qualifying and in the races at the South Garda Karting. This great performance allowed especially Giuseppe Palomba and Moritz Ebner, on BirelART-TM Racing, to be again among the front runners. The Chinese driver Yu Jia Gao also had a positive debut in KZ2 in a challenging series like the WSK Open Cup.
Viti Racing's assisted Giuseppe Palomba posted the pole position time, was the first after the qualifying heats and only a technical problem in the wet Prefinal stripped him of the chance of fighting for the win in the Final. Nevertheless, Palomba eventually managed to recover 23 places and closed his effort in the top ten.
Moritz Ebner also put in a great performance showing again a good growth as he is now constantly among the top drivers of the category. Only 0.2s short of the pole position in qualifying, Ebner ended the heats in ninth place. A racing contact in the wet Prefinal made him slip down to the back of the pack, but Moritz Ebner bounced back in the Final recovering 16 places and crossing the finish line in P12.
The next appointment on track for Viti Racing is at the second round of the WSK Open Cup in Adria on October 3rd.
Complete results are available at www.wskarting.it.
22.09.2021
Viti Racing
www.vitiracing.it