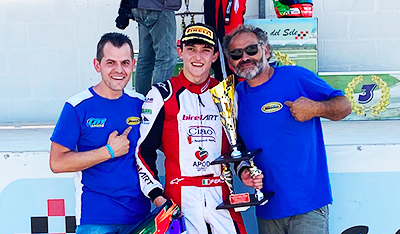 VITI RACING AND GIUSEPPE PALOMBA WIN THE ITALIAN ACI KARTING KZ2 CHAMPIONSHIP
Giuseppe Palomba won the second Italian title in a row in Battipaglia. Ferdinando D'Auria also put in a great performance ending on the KZN Junior's podium, while Leonardo Pelosi was hit by bad luck and lost the lead.
The final round of the ACI Karting Championship in Battipaglia offered once again a confirmation of the competitiveness of Viti Racing's drivers that put in several strong performances. Giuseppe Palomba won the Italian KZ2 title for the second year in a row and Ferdinando D'Auria got a great result in KZN Junior ending race-1 on the podium. In this category, only the bad luck prevented Leonardo Pelosi to take the final win as he has been leading the pack until the eve of the race in Battipaglia.
This event has been a catwalk for Giuseppe Palomba of Team LG Motorsport on BirelART-TM Racing, as his classification advantage allowed him to take the title even without running the finals on Sunday. The Italian driver decided in fact to anticipate his trip to Sweden for the World Championship. In Battipaglia, Palomba posted the pole position time in qualifying and claimed the victory in the two qualifying heats.
Another good result was scored also by Ferdinando D'Auria. The driver assisted by Viti Racing on BirelART-TM Racing put in an excellent performance in KZN Junior coming third in qualifying, third at the end of the heats, taking the podium in race-1 and P7 in race-2.
Leonardo Pelosi had tougher luck on Maranello-TM Racing. The other driver assisted by Viti Racing in KZN Junior unfortunately did not finish race-1, which compromised his title hunt. Pelosi ended therefore the KZN Junior Championship in fourth position, while D'Auria was seventh.
The next appointment on track for Viti Racing is at the International Super Cup FIA Karting KZ2 in Kristianstad, Sweden.
Complete results are available at: http://www.acisport.it/it/CIK/home.
01.09.2021
Viti Racing