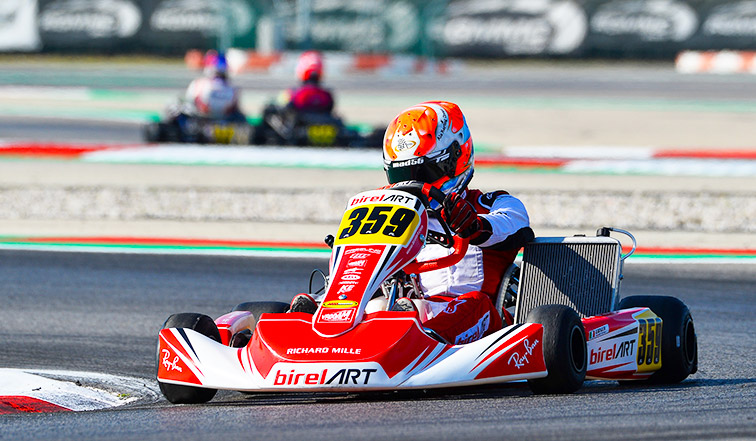 VITI RACING, AN INCIDENT STOPPED GIUSEPPE PALOMBA'S SUCCESSFUL RUN IN THE EUROPEAN CHAMPIONSHIP
The driver assisted by Viti Racing put in a great performance in Adria, but was forced to lose some positions in the final. Moritz Ebner and Marcus Funda among the quickest too.
Giuseppe Palomba had an unfortunate epilogue in his European KZ2 Championship's campaign in Adria. The driver assisted by Viti Racing and competing for the official BirelART-TM Racing team posted the fastest time of Series-3, which was the second fastest overall, and was the first after the heats thanks to 4 wins and a second place. The Italian driver, unfortunately, lost several positions in an incident during the final when he was leading the race. This was a real shame as Palomba was stripped of a probable win and certainly of the podium. He ended eighth in the final and sixth in the championship.
Among the other drivers assisted by Viti Racing, Moritz Ebner had a good weekend, despite being delayed by a penalty, as he managed to get a prestigious qualification for the final among the 81 entered drivers. Marcus Funda did the same but, unfortunately, had to retire from the final.
Overall good performances were put in by all the other drivers assisted by Viti Racing: Valentino Fritsch just missed out the qualification for the final, and the other drivers were Thanapongpan Sutumno, Jesper Sjoberg, Robert Kindervater, Lukas Reibock and Paul Rieberer.
The next appointment on track for Viti Racing will be at the closing round of the Italian ACI Karting Championship on August 29th at the Circuit of Sele in Battipaglia.
15.08.2021
Viti Racing