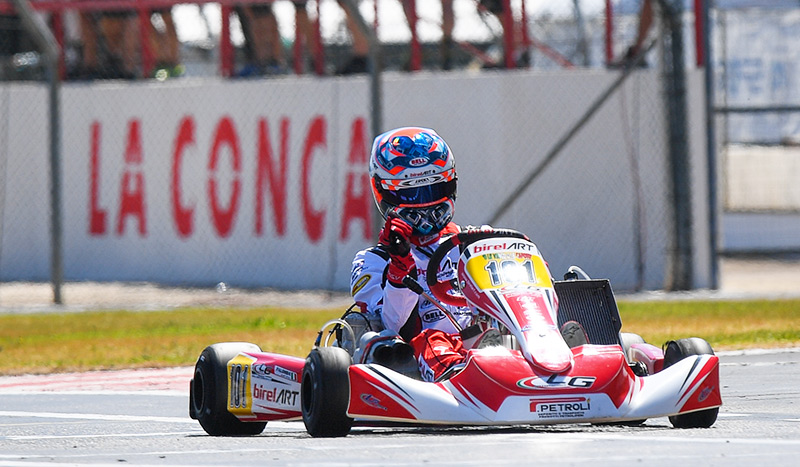 VITI RACING AND GIUSEPPE PALOMBA WIN ALSO IN LA CONCA
Viti Racing dominates race-1 in KZ2 and confirms its classification lead at the fourth and penultimate round of the Italian ACI Karting Championship.
Giuseppe Palomba put in another great performance with the assistance of Viti Racing and team LG Motorsport on BirelART-TM Racing in the Italian ACI Karting KZ2 Championship at the International Circuit La Conca.
In the fourth and penultimate round of the championship held in Puglia, Giuseppe Palomba has been the protagonist since qualifying practice posting the quickest time and kept his momentum in the heats winning both of them.  Palomba then dominated race-1 gaining some further advantage in the overall classification and in that of the Under-20, while a contact at the start of race-2 forced Palomba to a recovery race that he ended in fourth place being again among the quickest with the fastest lap of the race.
Palomba confirmed to be the classification leader and reached 167 points, that is 28 more than his closest rival. In the KZ2 Under-20 he is leading the classification too at 201 points.
The next round on track for Viti Racing will be at the European KZ2 Championship on August 15th in Adria. The closing round of the Italian ACI Karting Championship is scheduled for August 29th at the Circuito del Sele in Battipaglia.
06.07.2021
Viti Racing