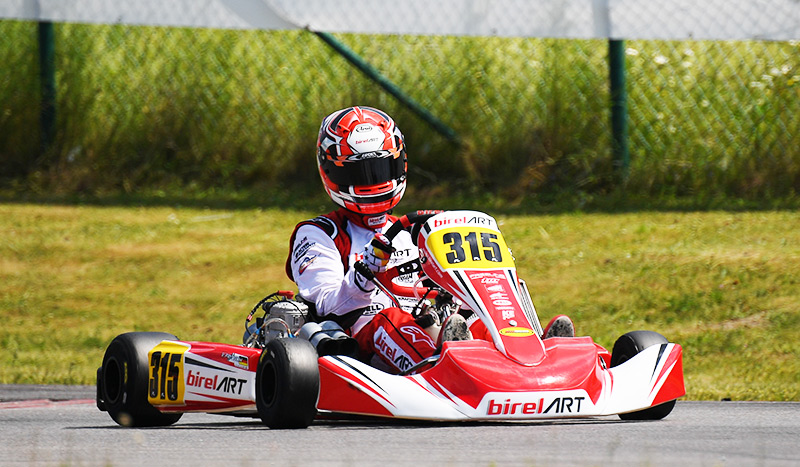 VERY UNLUCKY EXIT TO WACKERSDORF FOR VITI RACING IN THE EUROPEAN CHAMPIONSHIP
An incident at the start of the KZ2 final pushed out Giuseppe Palomba. Alexander Schmitz also forced to retire from the race, while Valentino Fritsch ended behind.
The German exit in Wackersdorf on the occasion of the European FIA Karting KZ2 Championship ended with an incredibly tough luck for some top drivers assisted by Viti Racing, like Giuseppe Palomba, but not only him. The official BirelART driver came to the fore in qualifying heats taking fifth thanks to two wins, two P2s and a sixth place. In the final he was involved in an incident with more than 10 other karts during the first lap. Palomba was hit from behind and sent into a spin at the hairpin of Wackersdorf's T2. Palomba and some other drivers could not rejoin from this pile of karts. Some other drivers assisted by Viti Racing also had the same fate, after coming to the fore in the heats and qualifying for the final. Among these, Alexander Schmitz was 19th after the heats as he scored  one win, while Valentino Fritsch was 15th at the end of the heats and closed his effort in P25. This has been a real shame as a podium, and maybe something more, was certainly at reach.
A special mention among the protagonists of Wackersdorf assisted by Viti Racing goes to some drivers that could not qualify for the final, but showed a good competitiveness: Moritz Ebner who just missed out to get qualified, Ben Dorr, Thanapongpan Sutumno and Paul Rieberer.
The next round of the European KZ2 Championship will take place in Adria next August 14-15th.
23.06.2021
Viti Racing