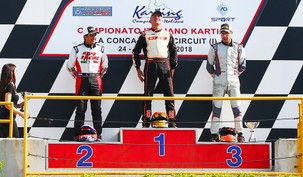 Viti Racing opens its Italian ACI Karting Championship campaign with a double podium
Viti Racing had a very positive weekend at the World Circuit La Conca in Muro Leccese during the opener of the Italian ACI Karting KZ2 and KZ3 Championship. The most prestigious results at the end of the two finals were the podium scored by Giuseppe Palomba (Intrepid-Tm), who was second in KZ2's Race-1, and Claudio Tempesti's KZ3 Over victory (CRG-Tm) in Race-2. Viti Racing also assisted Marco Pastacaldi (Maranello-Tm) and Luigi Di Lorenzo (CRG-Tm) in KZ2, Sergio Damiani (Intrepid-Tm) and Fabrizio Del Brutto (CRG-Tm) in KZ3 Junior.
Giuseppe Palomba is a new reality of KZ2 and put in an excellent race taking a very good second place in Race-1, after being second in qualifying and securing two good placings in the heats. Palomba was eighth in Race-2. He is currently second in the Championship at 36 points.
Claudio Tempesti has been contesting KZ3 Over. Following the fifth time in qualifying, he had to recover some ground in the first final because he had to retire from one heat. He managed to climb up to P5. Tempesti got an early lead in Race-2 and claimed a great victory, pipping his rival Profico. Tempesti is second in the provisional standings at 42 points.      
In KZ2, Luigi Di Lorenzo was 19th in Race-1 and then recovered a few positions in Race-2, but a 10s time penalty relegated him from P11 to P20. Marco Pastacaldi had to retire from Race-1 instead due to an incident, while he ended Race-2 in 21st place.
In KZ3 Junior, Sergio Damiani run two very good races closing Race-1 in fifth place and Race-2 in seventh. Fabrizio Del Brutto was penalized in Race-1, but bounced back in Race-2, climbing up to P6 from the starting P20.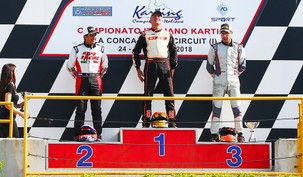 Italian ACI Karting Championship , La Conca, 27.05.2018
KZ2, Giuseppe Palomba, P2, P8
KZ2, Marco Pastacaldi, P32, P21
KZ2, Luigi Di Lorenzo, P19, P20
KZ3 Over, Claudio Tempesti, P5, P1
KZ3 Junior, Sergio Damiani, P5, P7
KZ3 Junior, Fabrizio Del Brutto, P20, P6