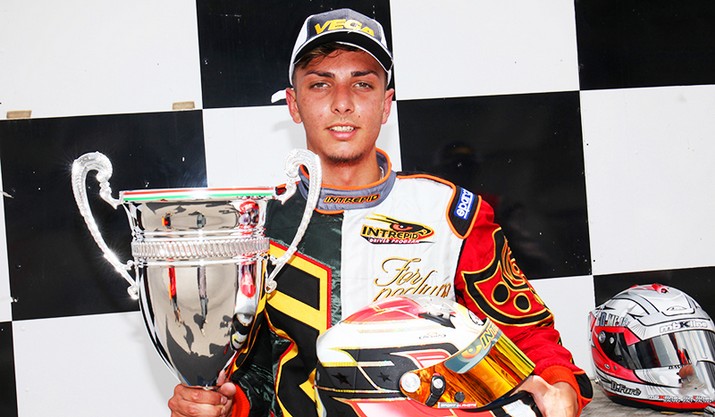 Palomba and Pastacaldi on the podium at the Italian ACI Karting Championship in Sarno
Viti Racing's assisted drivers displayed excellent performances in the third round of the Italian ACI Karting Championship held at the International Circuit Napoli in Sarno on June 10th, 2018. It has been a great weekend and some of the results obtained have been remarkable and prestigious. Giuseppe Palomba deserved a round of applause in KZ2 on Intrepid-Tm. He experienced some difficulties in one qualifying heat due to a problem to the gear lever, which forced the driver from Naples to start Race-1 from the 17th spot of the grid instead of from the front row. Palomba's misfortune was quite incredible, but his comeback race has been quite amazing and ended with the fourth place. A little bit of good luck is needed to climb from P17 to P4, but what is mostly required is certainly talent, a great chassis and a superb engine! Palomba kept his momentum in Race-2, when he got some more ground back ending second from the starting P4. Finding a way past the big drivers is difficult, but definitely not impossible when one has skills, talent, technical means and is supported by a top of the class race pace. A fourth and a second place behind a rival of the likes of Davide Forè confirmed Palomba's second place in the championship at 78 points behind Pollini, who reached level 108 with Race-1 victory. The Italian Championship is wide open.
Viti Racing hauled another great result with Marco Pastacaldi on Maranello-Tm, that is a different chassis but pushed by the same engine prepared by Viti Racing. Pastacaldi bounced back in Sarno after the bad luck of the opener at La Conca in Muro Leccese. This time around he completed a solid qualifying and pulled a good third place in Race-1, which says quite a lot on the great performance put in by the Italian driver. Marco Pastacaldi started Race-2 behind due to the grid inversion, and struggled a little bit more, but managed to claim a good P9 that earned him some solid points for the Championship.
Good races were also run by the other drivers assisted by Viti Racing, despite some ups and downs mainly due to bad luck and lack of experience:  Alessio Baldi (Intrepid-Tm), Filippo Berto (CRG-Tm), Nicola Bartolini (CRG-Tm) and Luigi Di Lorenzo (CRG-Tm) managed to complete a positive weekend. Alessio Baldi had an incident in Race-1 after starting from the front row, Filippo Berto scored some great results in the heats, but did not finish the first final, while Nicola Bartolini ended Race-1 in 17th place and Luigi Di Lorenzo was 28th. Di Lorenzo ended Race-2 in 20th place due to a 10s time penalty, while Berto, Baldi and Bartolini did not finish.
The next round of the Italian Championship will take place on July 1st at the South Garda Karting Circuit in Lonato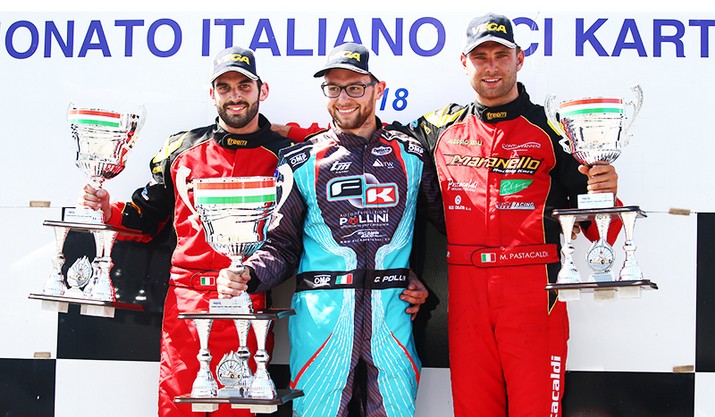 Italian ACI Karting Championship, Sarno, 10.06.2018
KZ2, Giuseppe Palomba, Race-1 P4, Race-2 P2
KZ2, Marco Pastacaldi, Race-1 P3, Race-2 P9
KZ2, Luigi Di Lorenzo, Race-1 P20, Race-2 P28
KZ2, Alessio Baldi, Race-1 P30, Race-2 P32
KZ2, Filippo Berto, Race-1 P34, Race-2 P29
KZ2, Nicola Bartolini, Race-1 P17, Race-2 P32