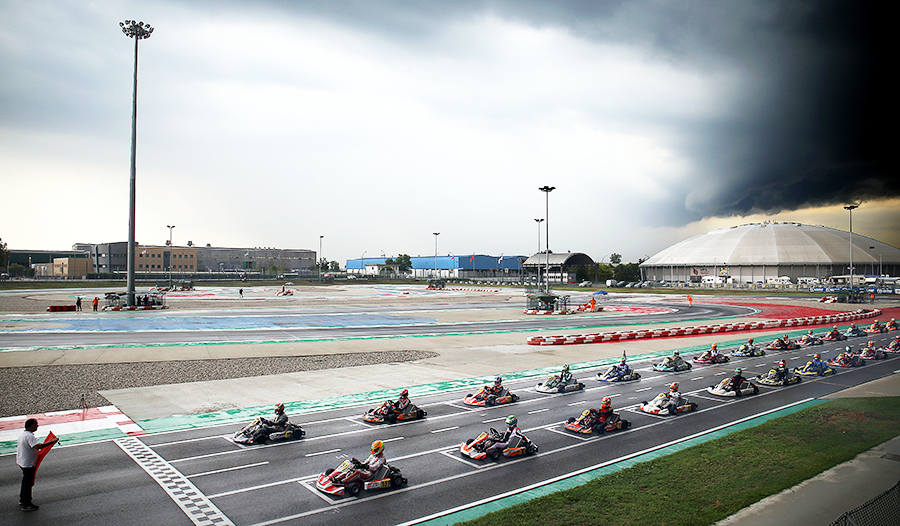 RAIN IN ADRIA PREVENTS GIUSEPPE PALOMBA TO GET THE PODIUM IN THE FOURTH  ROUND OF THE ITALIAN KZ2 CHAMPIONSHIP
Palomba claimed two fourth places in as many wet finals in Adria, but lost a few points to the top of the classification despite retaining his provisional second place in the overall standings. Though races under the rain also for De Marco, Tancredi, Funda and Simoni.
The rain and summer thunderstorms have characterized Adria's fourth round of the Italian ACI Karting Championship. The hot weather of the eve but mostly the bad weather conditions and rain on Saturday afternoon and Sunday made things trickier for some of the main protagonists of this important round of the season. Among the drivers affected by this weather, Viti Racing's Giuseppe Palomba on Croc-Tm saw his Italian Championship title hunt slowing down in the two "wet" finals in Adria. Palomba came fourth twice and lost a few points to his direct rival in the classification, despite demonstrating to be the quickest in qualifying – he claimed in fact the pole position – and in the first of the two heats on Saturday before the rain started messing things up. The chances for winning the Italian Championship are not compromised though. Palomba  keeps the second position but he will need great focus in the fifth and closing round on September 1st in Val Vibrata.
The other Viti Racing drivers also experienced some tough times due to the rain. The laptimes they posted on the dry were great, but a lot of episodes and some racing contacts on the wet ended up in results below expectations. Among the quickest, Davide De Marco was seventh in race-1 and tenth in race-2 after the seventh place in qualifying on KR-Tm. Rocco Tancredi (BirelArt-Tm) was 13th in race-1 and 19th in race-2, Marcus Funda 19th in race-1 and recovered well in race-2 ending 13th. Mauro Simoni had to retire from race-1, but then completed a positive race-2 claiming 14th.
The next round of the Italian Championship is the fifth and closing round scheduled for September 1st in Val Vibrata (Teramo). This race will have coefficient 1.5 in the points scoring scheme.
Classification of the Italian Championship: 1. Cunati points 161, 2. Palomba 131, 3. Iacovacci 120, 4. Marseglia 100, 5. De Marco 82.
Complete results are available at http://www.acisport.it/it/CIK/home