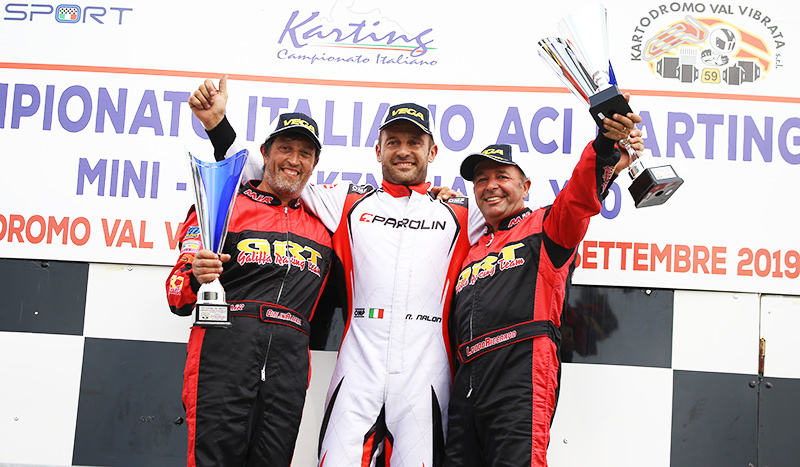 POSITIVE BALANCE FOR VITI RACING IN THE ITALIAN ACI KARTING CHAMPIONSHIP
Palomba was elected runner-up in the Italian Championship, D'Attanasio and Nalon respectively won race2 in KZN Under and KZN Over and are third in their standings at the closing round of the championship in Val Vibrata.
The Italian ACI Karting Championship ended positively for Viti Racing. In fact, satisfaction did not go missing in the three categories KZ2, KZN Under and KZN Over. A hard-fought round has been ran in Val Vibrata and a lot of the drivers assisted by Viti Racing played a major role hunting for their respective titles.
In KZ2, Giuseppe Palomba, at the debut on BirelArt-Tm, reached the closer of the Italian Championship as one of the main contenders. Palomba secured a great P3 in qualifying and was on top after the heats claiming a pole position start in final one. Unfortunately, the victory in race1 vanished due to several little setup issues and the Italian title went with it. Palomba took the podium in race2 and was confirmed as the runner-up in the championship as last year. The goal to be again among the main title contenders has been achieved, even if there is a bit of disappointment for not getting the Italian title. The challenge is postponed to next year, but before that, another good fight will take place at the forthcoming World Championship on September 22nd in Lonato.
Among Viti Racing's assisted drivers in KZ2, Antonio Piccioni was also among the quickest on DFM-Tm. He completed in fact an incredible 18-place comeback in race2 from P22 of race1 due to the retirement, up to P6 in race2. Davide De Marco also run a solid race on KR-Tm and closed both finals within the top ten.
In KZN Under, Filippo D'Attanasio was one of the main title contenders on Formula K-Tm, but the third place in race1 after a long fight for the win did not give him many chances. D'Attanasio won race2 and this allowed him to end the championship in third place.
Riccardo Nalon, Parolin-Tm, is another great protagonist assisted by Viti Racing in KZN Over. He has been fighting for the title until the end and came very close to getting it. Eventually he had to settle for P7 in a very hard-fought race1. A great win in race2 did not allow Nalon to bounce back in the classification and he was third in the final standings.
Renato Massacci, CRG-Tm, has also been shining with P12 in KZN Over's race2 at the end of a good comeback following the retirement from race1.
The classifications follow:
Italian KZ2 Classification: 1. Cunati points 161, 2. Palomba 131, 3. Iacovacci 120.
Italian KZN Under Classification: 1. Cesari points 142; 2. Tolfo 135; 3. D'Attanasio 111.
Italian KZN Over Classification: 1. Pagani points 135; 2. Profico 124; 3. Nalon 113.