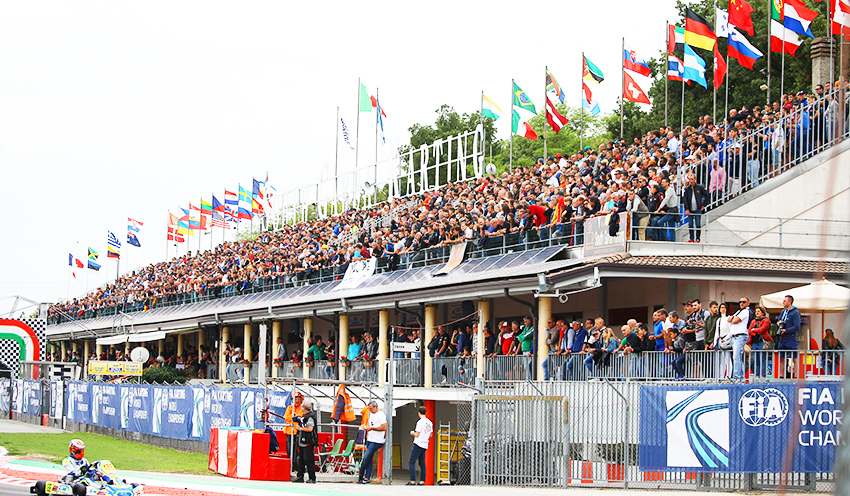 SATISFACTION FOR VITI RACING'S WORK AT THE FIA KARTING WORLD CHAMPIONSHIP IN LONATO
Among the most positive results, Simoni in KZ, Palomba and Dahlberg in International Super Cup KZ2, but De Marco, Funda and Giannoni also qualified for the KZ2 final. Good outing also for Chan in KZ, La Martina, Zanchi, Lopez, Van Der Shaft and Horn in KZ2, all benefiting from the assistance by Viti Racing.
Viti Racing undertook a huge work at the FIA Karting World Championship KZ and International Super Cup KZ2 at the South Garda Karting circuit in Lonato, but this has been rewarded by the satisfaction of the results obtained by the drivers assisted in the most prestigious International event for the two shifter categories.
In KZ, among the very many World and European champions, Mauro Simoni has been shining in OK1-Tm and, thanks also to the support of Viti Racing, he managed to complete a good race after qualifying for the final despite stopping early in one heat.
Hong Kong's driver Cheuk Hin Chan on CKR-Tm did not miss the chance to display a good competitiveness but could not qualify for the final by a whisker.
In KZ2, Giuseppe Palomba confirmed to be among the front runners of the category on BirelArt-Tm. He managed to end eighth out of the 122 drivers on track recovering a lot of ground from qualifying and heats. Palomba was also the first of the KZ2 drivers on BirelArt and led team-mate Alexander Dahlberg, both drivers being assisted by Viti Racing in the engine preparation.
Among the other Viti Racing's drivers, Davide De Marco qualified for the final on KR-Tm and completed a good comeback race ending 21st after recovering 5 places, as did Marcus Funda that was 24th on GP-Tm. Lorenzo Giannoni also qualified for the final on Sodi-Tm. He had been among the protagonists of the heats but did not finish the closing heat and was forced to an early retirement from the final too.
Alessio La Martina could not get through to the final in the very hard-fought KZ2 qualifying on Maranello-Tm. He nonetheless displayed a good competitiveness but lacked some constancy, as Matteo Zanchi, Alejandro Lahoz Lopez, Justin Van Der Shaft and Moritz Horn that did not have the chance to show their value in the sought after KZ2 final.
Complete results are available at www.cikfia.com