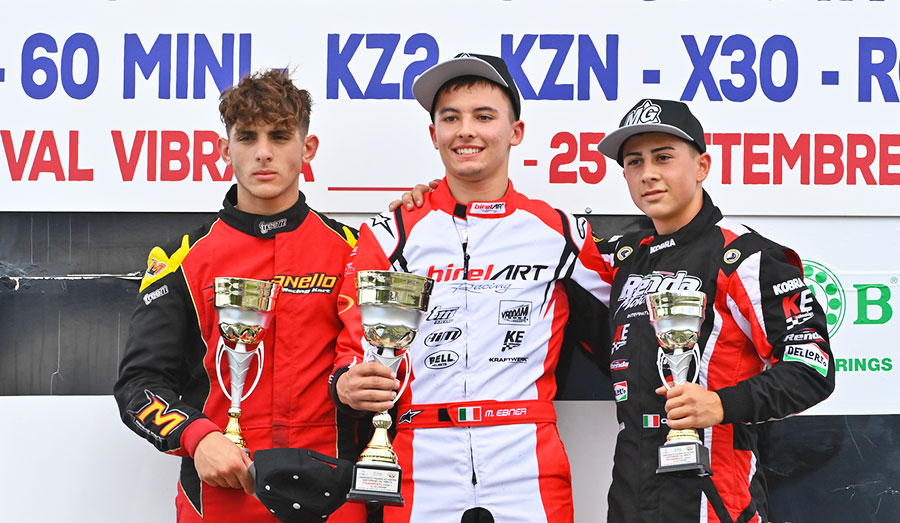 VITI RACING'S ENGINES WIN THE ITALIAN KZ2 UNDER 18 CHAMPIONSHIP
Moritz Ebner secured Viti Racing the victory of the Italian KZ2 Under 18 Karting Championship in the fifth and closing round of the campaign that took place in Val Vibrata. Ebner also ended third overall. This is a great result for Viti Racing and for the Italian driver of team LG Motorsport on BirelART-TM Racing, who displayed great competitiveness also in the closing act of the season in Val Vibrata. Ebner won race-2 in the Under 18 classification and this result allowed him to take the Italian title after the double win scored in Franciacorta and race-1's victory in Sarno.
Leonardo Marseglia of team KCS on BirelART-TM Racing has also put in a good performance, recovering a lot of ground in race-2, setting the fastest lap of the race and ending close to the podium after a penalty in race-1. Marseglia ended fifth in the championship.
Massimiliano Casagranda had an unlucky exit to Val Vibrata. He has been competing among the fields of team TecSav Racing Kart on BirelART-TM Racing and in KZN Under he could not defend the classification lead he built in the rounds of Franciacorta and Ugento. Casagranda ended the championship in fourth place.
Complete results are available at the following website:
https://www.acisport.it/it/CIK/home
Viti Racing