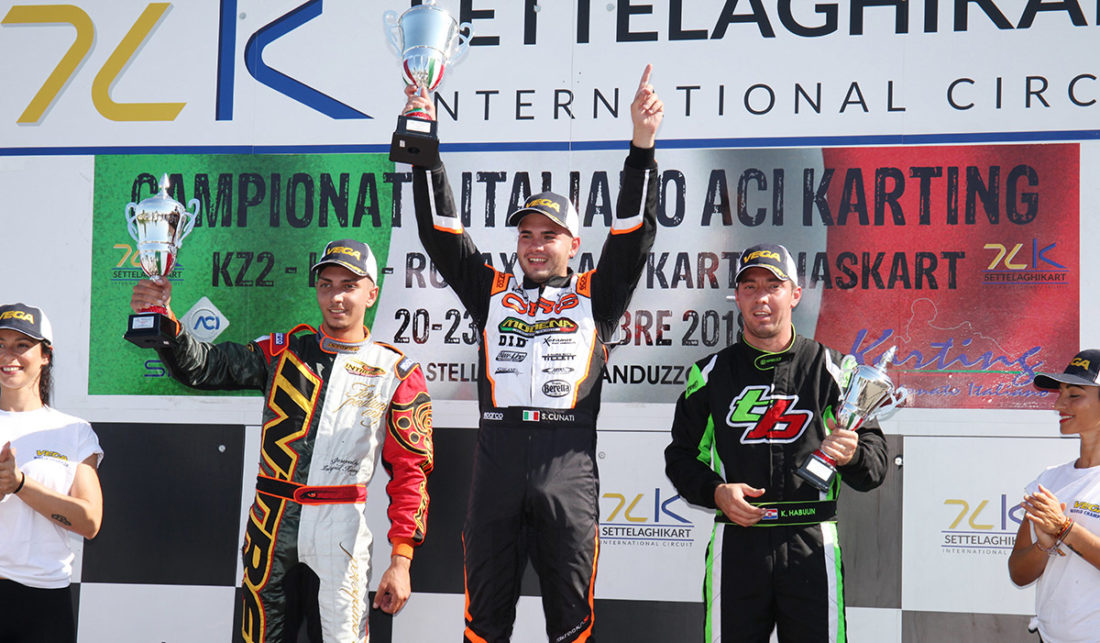 VITI RACING ENDS THE ITALIAN 2018 ON A HIGH
Viti Racing confirmed its role as one of the main protagonists of the Italian Championship in the shifter categories KZ2 and KZ3, even though the KZ2, KZ3 Junior and KZ3 Over titles were missed by a whisker. Viti Racing clinched a splendid victory in Race1 with Simone Cunati on CRG-TM at the closer of the Italian championship in Castelletto di Branduzzo, which confirmed not only the value of the driver, but also the quality of the technical package at his avail. A good result was initially put in by Giuseppe Palomba on Intrepid-TM in KZ2. He ended Race1 in second place behind Cunati and was once again very quick and competitive. Palomba's target was the victory of the Championship, but Race2 grid inversion made it difficult for the Italian driver, that also was handed a 10s time penalty for jumping the start. That was a real pity. Palomba and Viti Racing run nevertheless a very strong season and clinched the title of Italian Vice-Champions alongside Cunati's fourth place. Luigi Di Lorenzo put in very good performances in KZ2 as he ended Race1 in P11 and Race2 in P8, while Filippo Berto could not show his best this time around.
Fabrizio Del Brutto ended second in the KZ3 Junior Championship. He had been fighting for the win, but was slowed down by a puncture in a heat that compromised his starting position on the grid of the two finals. Del Brutto eventually had to settle for an eighth and tenth place due also to a penalty.
In KZ3 Over, classification leader Claudio Tempesti could not keep his P1 due to a technical problem in the first of the two finals and had to retire early. Tempesti was 13th in Race2 due to a time penalty and closed the KZ3 Over Championship in P3.  Paolo Beltramini was also handed a penalty in the first of the two finals and was relegated to P15, before climbing up to P11 in Race2.
Italian ACI Karting Championship, Castelletto di Branduzzo (ITA), 23.09.2018
Simone Cunati, KZ2 Finals: Race1 P1; Race2 P4.
Giuseppe Palomba, KZ2 Finals: Race1 P2; Race2 P16.
Luigi Di Lorenzo, KZ2 Finals: Race1 P11; Race2 P8.
Fabrizio Del Brutto, KZ3 Junior Finals: Race1 P8; Race2 P10.
Claudio Tempesti, KZ3 Over Finals: Race1 P18; Race2 P13.
Paolo Beltramini, KZ3 Over Finals: Race1 P15; Race2 P11.