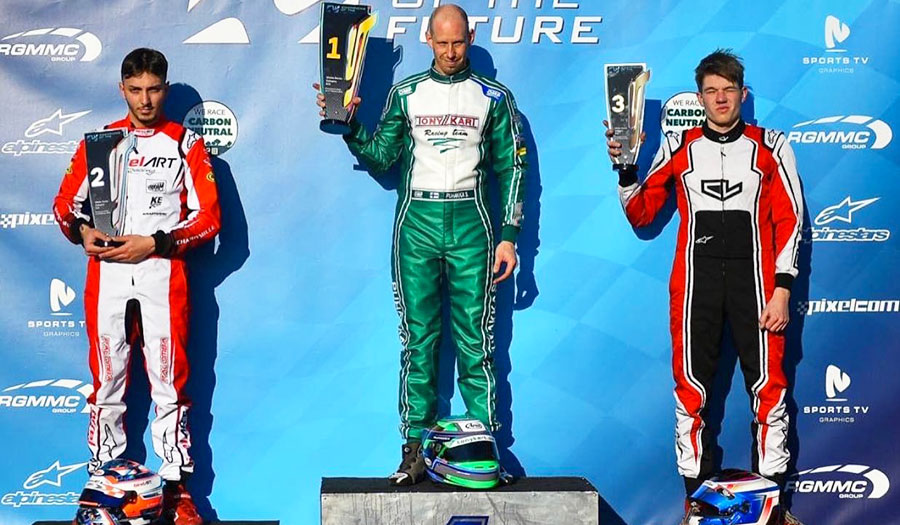 GREAT PERFORMANCE BY VITI RACING'S ENGINES AT THE WINTER SERIES IN FRANCIACORTA
The KZ2 engines prepared by Viti Racing have been among the most competitive of all also at the international race of the Winter Series that has taken place at the Franciacorta Karting Track. A series of good performances ended with the final podium of Giuseppe Palomba, who came second and that of David Liwinski, third. Palomba and Liwinski also posted the fastest times overall in the final as the Italian completed his best lap in 46.941s and the Pole in 46.944s.
The speed of several drivers using Viti Racing's engines has been excellent and allowed them to close within the top ten: Laurens Van Hoepen was fourth overall, Tom Leuillet eighth and Leonardo Marseglia tenth.
Moritz Ebner was also among the quickest and ended 13th, Kajus Siksnelis was 14th and Roman Sharapov 20th after recovering 11 places, while Gregori Kulashenko recovered nine places and ended 21st. Valentino Fritsch, Mattia Simonini and Oscar Targett, unfortunately, had to retire from the race instead.
Complete results are available at www.championskarting.com
28.02.2022
Viti Racing