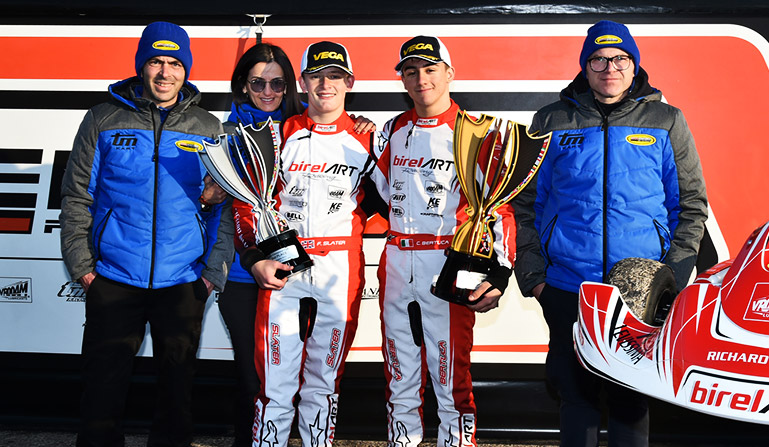 ONE-TWO FOR VITI RACING'S AT THE WSK CHAMPIONS CUP IN LONATO
Viti Racing engines achieved an extraordinary en-plein in the first race of the season at the WSK Champions Cup in Lonato. Cristian Bertuca and Freddie Slater finished in fact first and second respectively in the first international event of the season on Birel Art-TM .
Viti Racing's engines prevailed throughout this opening weekend, starting from the qualifying session where Freddie Slater – at his KZ2 debut –  posted the best overall time in 45.593s and was followed closely by Cristian Bertuca's outstanding performance in 45.723s Among the best in qualifying, Artem Severiukhin was fifth overall using a Viti Racing engine unit.
In the Prefinal, Slater claimed the victory, the performance of the Viti Racing engines was more importantly confirmed in the Final, where Cristian Bertuca, thanks to a very quick start, dominated the scene throughout the race to take the victory. Freddie Slater closed in on the winner in the closing stages, after losing some ground early on. This performance was a spectacular one-two in a great show of strength. Artem Severiukhin was in the top ten of the WSK Champions Cup as he crossed the finish line in seventh place. Ferdinando D'Auria  also had a good overall performance, while Ivan Ekelchik and Gabriel Kawer were not as fortunate.
All results can be found at https://www.wskarting.it
Viti Racing