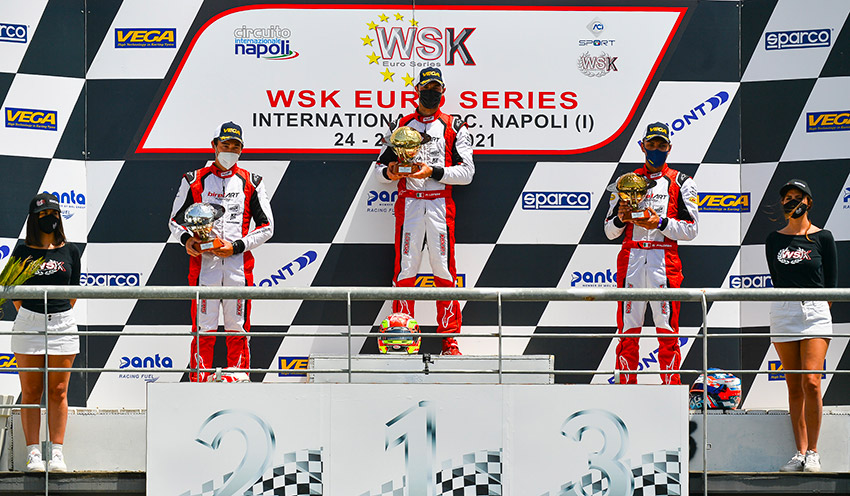 VITI RACING ON THE PODIUM OF WSK EURO SERIES WITH GIUSEPPE PALOMBA
Giuseppe Palomba put in an excellent performance with his TM Racing engine by Viti Racing in Sarno's third and closing round of WSK Euro Series.
Viti Racing closed on a high the third and final round of WSK Euro Series assisting the official BirelART driver Giuseppe Palomba regarding his TM Racing engine. The excellent crescendo of performance  of the Italian driver at the International Circuit Napoli in Sarno allowed Palomba to be one of the main protagonists of the racing weekend as he claimed the second place in the final and the third in the general standings of the Euro Series. The second fastest time at just 0.031s from the leader of the prefinal and 0.056s in the final say a lot about Palomba's speed and the technical preparation of his BirelART pushed by a TM Racing engine by Viti Racing.
In the WSK Euro Series round of Sarno Viti Racing also assisted the Thai driver Thanapongpan Sutumno, who got close to the top ten on a BirelART-TM Racing and the two Greek drivers Nikolaos Salpingidis and Vasileios Karagiannis that competed on Energy-TM Racing run by team Cosmosrally Kart Academy.
Complete results are available at: http://www.wskarting.it/results_2021.asp?r=3&c=1&s=WSK_Euro
The next appointment on track with Viti Racing is at the Italian ACI Karting Championship KZ2 on July 4th in La Conca (Muro Leccese, Lecce).
28.06.2021
Viti Racing